Find this product on Logos.com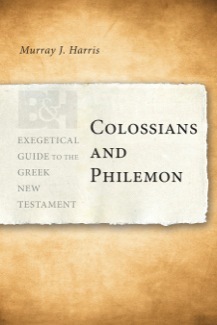 Exegetical Guide to the Greek New Testament: Colossians and Philemon
Highlights
Brief introduction on authorship, date, occasion, and purpose
List of recommended commentaries
Extensive exegetical notes
Translation and expanded paraphrase of the whole book
Comprehensive exegetical outline
Glossary of grammatical and rhetorical terms
Product Details
The Exegetical Guide to the Greek New Testament: Colossians and Philemon is the first book in a projected series of twenty volumes that seeks to bring together classroom, study, and pulpit by providing the student or pastor with the information needed to understand and expound the Greek text of the New Testament. Author Murray J. Harris aims to close the gap between grammatical analysis and exegesis, leading the reader into an in-depth understanding of the New Testament Greek text by guiding him or her through the processes of thorough exegesis flowing into sermon construction.
About the Author
Murray J. Harris is professor emeritus of New Testament Exegesis and Theology at Trinity Evangelical Divinity School in Deerfield, Illinois, and former warden of Tyndale House in Cambridge, England.
Check out a sample by clicking on the Sample button.
Endorsements
Daniel L. Akin, President, Southeastern Baptist Theological Seminary
For every pastor and Bible teacher who remembers the countless hours spent learning all the interpretive categories in second year Greek, this exegetical guide is a dream come true. Harris skillfully applies this knowledge to provide parents with a helpful treatment of the details of the Greek text of Colossians and Philemon.
Clinton E. Arnold, Professor of New Testament Language and Literature, Chair, New Testament Department, Talbot School of Theology.
An indispensable tool for pastors, students and even scholars, especially those who want to understand the grammar, syntax and word meanings in Colossians and Philemon.
G.K. Beale, Kenneth T. Wessner Chair of Biblical Studies, Professor of New Testament, Wheaten College Graduate School
Regarding the first edition of this book (1991): The Exegetical Guide takes the student by the hand and leads him or her expertly through every word and nuance of the Greek text, with ample bibliography. It is a miracle of painstaking thoroughness: a boon both to every beginning and to every polisher-up of past beginnings.
C.F.D. Moule (1908-2007), Lady Margaret's Professor of Divinity, University of Cambridge