Find this product on Logos.com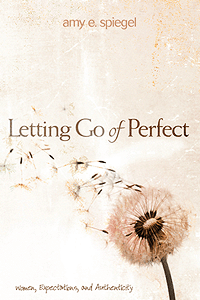 Letting Go of Perfect
Women, Expectations, and Authenticity
Product Details
Have you ever felt as though you didn't recognize yourself in the mirror and yet you're frantically trying to keep that image together? Felt bound by the dreams you had for life that you now realize have forced other expectations on you? Or maybe you've laughed at one of those insanely ridiculous moments in the day when absolutely everything goes wrong and no matter what you do, the grand purpose seems elusive.
Let's be honest. We all have a standard in our head that we believe is the perfect Christian woman, wife, and/or mother. Yet, have you ever really examined what that standard is? Yes, God absolutely has standards for what those roles are to be, but is He our source, or is it the peer-pressure-don't- be-the-odd-one-out-on-Sunday-morning drive to fit in that is driving us away from authenticity and raw faith to outward performance?
Amy Spiegel knows this struggle well and notes, "so many of the women I know seem to feel the same tension in their own lives, teetering on the edge, praying someone will be there to catch them if they fall." There is a grand purpose to where you are today; join Amy in Letting Go of Perfect, to look at what it means to truly know the woman in the mirror as well as the God who created, redeems, and equips her.
About the Author
Amy Spiegel is a mom of four active kids, wife to a college professor, and graduate of Taylor University with a bachelor's degree in Environmental Political Science. Yes, a Christian author with a degree in something that involves the environment, indicative of her drive to shatter stereotypes and walk in faithfulness no matter the perception. She has spoken at various women's events, writes weekly posts for WisdomAndFollyBlog.com, and helps her husband, James Spiegel, with his writing projects like the book about their family adventures, Gum, Geckos, and God. She's sharp, funny, and really cares about the relationship that matters most.
Endorsements
We have to surround ourselves with people who speak truth to our ragged souls. Amy Spiegel is one of those people, and I treasured reading her words because they reminded me that behind every woman we encounter is a story that can't be told from her lipstick or her minivan.