Find this product on Logos.com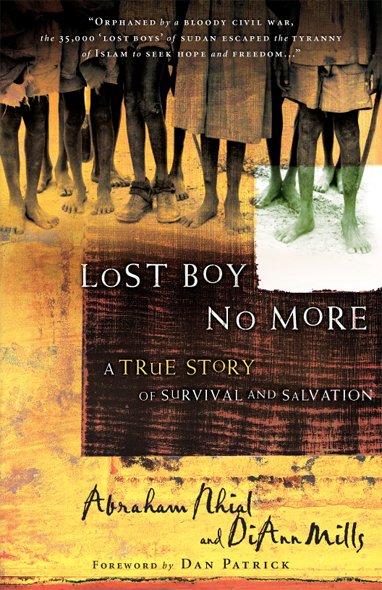 Lost Boy No More
A True Story of Survival and Salvation
Product Details
Lost Boy No More tells the incredible true story of Abraham Nhial—but the story is not his alone. As a nine year-old child, Abraham found himself orphaned as civil war in his homeland of Sudan ravaged his entire village because they refused to embrace Islam. His journey is one of a perilous walk along with 35,000 lost boys of Sudan who fled to Ethiopia. Abraham and others like him made it to the border but hard times were not over as he endured the refugee camps of Ethiopia. Abraham becomes a lost boy no more when he discovers real salvation through Jesus Christ. Lost Boy No More gives more than a narrative of Abraham's story. It also gives a history of Sudan and the persecution of Christians by Islamic militants.
About the Authors
Abraham Yel Nhial is one of the Lost Boys of Sudan who have resettled in the United States. He is referred to as the spiritual leader of the Lost Boys for his commitment, work, and outstanding achievements for the southern Sudanese. He speaks at colleges, schools, churches, and community conscious groups around the country about the Lost Boys of Sudan and the plight of the Sudanese during the decades-long civil war raging in his country. He resides in Atlanta, Georgia.
DiAnn Mills is an award-winning author of twenty-six novels and novellas-as well as nonfiction, numerous short stories, articles, and devotions-and the contributor to several nonfiction compilations. She is a founding board member for American Christian Romance Writers and a member of Inspirational Writers Alive. She speaks for various groups and conducts writing workshops. She lives in Houston, Texas.
Endorsements
This is the unbelievable story of the pilgrimage of ten thousand-plus boys from one tribe in Africa as they confront the horrors of Islam and find hope in Jesus. I highly recommend it.
Lost Boy No More is a riveting read--simple one of the most moving books I have read in some time. Abraham Nhial and DiAnn Mills have written an amazing contribution to Christian literature. The narrative of the Lost Boys of Sudan is a tragically overlooked event in Christian history, and, at long last, the truth is known. I pray every single pastor and Christian reads this book with undiverted attention. It will radically affect your worldview and will stifle the incessant whining of comfortable Christianity. The sacrifices of the church in Sudan make our worst days seem benign.
The hearttrending stories of Lost Boy No More will stay with you for a long time. The boys of the Sudan had their childhood stolen from them and replaced with a nightmare. The stories will also fill you with hope, as they exemplify the resilience of the human spirit.