Find this product on Logos.com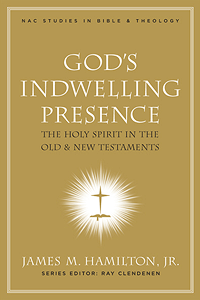 New American Commentary Studies in Bible & Theology: God's Indwelling Presence
The Holy Spirit in the Old and New Testaments
Product Details
About the New American Studies in Bible and Theology
The books in this series often take a biblical difficulty as their point of entry, remembering B.F. Westcott's point that "unless all past experience is worthless, the difficulties of the Bible are the most fruitful guides to its divine depths."
This new series is to be a medium through which the work of evangelical scholars can effectively reach the church. It will include detailed exegetical-theological studies of key pericopes such as the Sermon on the Mount and also fresh examinations of topics in biblical theology and systematic theology. It is intended to supplement the New American Commentary, whose exegetical and theological discussions so many have found helpful. These resources are aimed primarily at church leaders and those who are preparing for such leadership. We trust that individual Christians will find them to be an encouragement to greater progress and joy in the faith. More important, our prayer is that they will help the church proclaim Christ more accurately and effectively and that they will bring praise and glory to our great God.
About God's Indwelling Presence Does the Holy Spirit do the same things now and in the New Testament times that He did in Old Testament times? Volume one in the New American Commentary Studies in Bible and Theology series for pastors, advanced Bible students, and other deeply committed laypersons addresses this challenging subject.
God's Indwelling Presence asks and explores to answer: What are the spiritual differences and similarities between Old Testament and New Testament believers? Did God dwell in Old Testament believers as He does in New Testament believers? Were Old Testament believers born again (that is, experience regeneration)? What do the words indwelling and regeneration mean? How is the Holy Spirit's ministry similar or different during Old Testament and New Testament times?

About the Author

James M. Hamilton Jr., is assistant professor of Biblical Studies at Southwestern Baptist Theological Seminary (SBTS) on the Houston Park Place Campus in Houston, Texas. He holds degrees from the University of Arkansas (B.A.), Dallas Theological Seminary (Th.M.), and SBTS (Ph.D.). He has published articles in Trinity Journal, Westminster Theological Journal, and many others.
Endorsements
A question thoughtful Christians, along with biblical scholars and theologians have long asked is whether believers under the old covenant had the indwelling presence of the Spirit as those in the new covenant are promised. Hamilton's work provides the most extensive treatment of this question currently available and makes a compelling case for the radical newness of the Spirit's indwelling. Here believers are led to understand more fully the powerful resources Christ has give His followers in sending them to the promised Holy Spirit.
Through careful scholarship, Dr. Hamilton provides an innovative interpretation of the biblical evidence. His study contributes helpfully not only to the ongoing discussion regarding how the two testaments are interconnected, but sheds new light on the important topic of the Holy Spirit's role in enabling believers from both testaments to be reconciled to God. Students of Scripture will find much here that is both enlightening and informative.
Jim Hamilton engages the controversial topic of the Spirit's indwelling with a lively and vibrant style. He has done an outstanding job in assessing the evidence and argues well for his own proposal. Even those who do not agree with all of his conclusions will profit from this careful study of the biblical text.