Find this product on Logos.com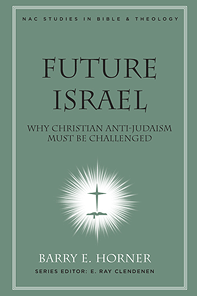 New American Commentary Studies in Bible & Theology: Future Israel
Why Christian Anti-Judaism Must Be Challenged
Product Details
About the New American Studies in Bible and Theology
The books in this series often take a biblical difficulty as their point of entry, remembering B.F. Westcott's point that "unless all past experience is worthless, the difficulties of the Bible are the most fruitful guides to its divine depths."
This new series is to be a medium through which the work of evangelical scholars can effectively reach the church. It will include detailed exegetical-theological studies of key pericopes such as the Sermon on the Mount and also fresh examinations of topics in biblical theology and systematic theology. It is intended to supplement the New American Commentary, whose exegetical and theological discussions so many have found helpful. These resources are aimed primarily at church leaders and those who are preparing for such leadership. We trust that individual Christians will find them to be an encouragement to greater progress and joy in the faith. More important, our prayer is that they will help the church proclaim Christ more accurately and effectively and that they will bring praise and glory to our great God.
About Future Israel
Future Israel: Why Christian Anti-Judaism Must Be Challenged is volume three in the New American Commentary Studies in Bible and Theology (NACSBT) series for pastors, advanced Bible students, and other deeply committed laypersons.
Author Barry E. Horner writes to persuade readers concerning the divine validity of the Jew today (based on Romans 11:28), as well as the nation of Israel and the land of Palestine, in the midst of this much debated issue within Christendom at various levels. He examines the Bible's consistent pro-Judaic direction, namely a Judeo-centric eschatology that is a unifying feature throughout Scripture.
Not sensationalist like many other writings on this constantly debated topic, Future Israel is instead notably exegetical and theological in its argumentation. Users will find this an excellent extension of the long-respected New American Commentary.
About the Author

Barry E. Horner is pastor of Christ's New Covenant Church in Tucson, Arizona, and maintains a Web site devoted to the study of John Bunyan. He holds degrees from George Fox University (B.A.), Western Conservative Baptist Theological Seminary (M.Div.), and Westminster Theological Seminary (D.Min.)
Endorsements
This is by far the best treatment of Israel's future I have found. It's a welcome antidote to the widespread apathy and confusion that have clouded this vital prophetic question. I found it clear, persuasive, thoroughly biblical, and difficult to put down.