Find this product on Logos.com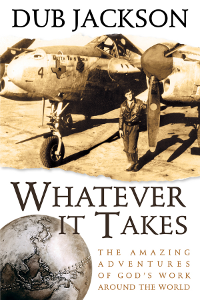 Whatever It Takes
The Amazing Adventures of God's Work Around the World
Product Details
From the Foreword by James T. Draper, Jr, Former President of LifeWay Christian Resources
The prevailing philosophy of foreign missions was to send career missionaries to the nations of the world and let the fellow believers at homes support them with their monies and prayers. Then Dub Jackson emerged on the scene. God planted a dream in his heart about reaching thousands...with the gospel of Jesus Christ. This book is about that watershed vision. This is a book about miracles and divine provision. This story must be told.
This book is not a dull history of some business plan and its processes. This book is about the incredible moving of God in the lives of real people, just like you and me. It is about the sacrifice that has brought now hundreds of thousands of people on partnership missions and millions into the kingdom of God through their witness. This book throbs with life and whets the appetite for more. Every born-again Christian ought to read this book. It tells the story that is the closest to the heart of God, the story of redeeming love, compelling sacrifice, and glorious good news.
About the Author
W.H. "Dub" Jackson is the originator of The New Life Movement and the concept of partnership missions, which has become nearly every Christian group's tool for worldwide witnessing. He formed World Evangelism Foundation and led partnership crusades around the world. Dub and his wife, Doris, served more than fifty years in missionary service and world evangelism. They now reside in Abilene, Texas
Endorsements
...God will use (Dub and Doris Jackson's) story to challenge you to follow their example by going forth to proclaim the gospel around the world.
Dub Jackson's determination to take our great God and Savior's Great Commission seriously has produced untold numbers of believers for His kingdom. His unswerving belief in impacting a country for Christ in equal partnership with nationals will be an inspiration to every leader.
Dub Jackson's vision of mobilizing thousands of volunteers to partner with missionaries and churches overseas was an idea ahead of its time but something that has become commonplace in mission strategies. This book is a testimony of God's blessing on a radical, innovative program that has accelerated global evangelization.