Find this product on Logos.com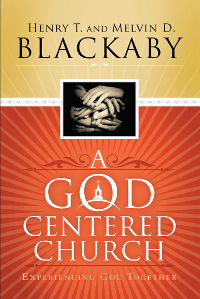 A God-Centered Church
Experiencing God Together
Product Details
If you've almost given up hope that church can be a place where hearts are united, prayers are answered, and people are readily open to whatever God wants, this could be the book that changes everything.
That's because not only will you get a chance to review God's biblical ideals for what the church is supposed to be, you'll see it happen. You'll go inside the churches where Henry Blackaby and his son, Mel, have watched the miraculous take place--impossible situations where God turned simple faith and submitted wills into stories only He could write.
But the greatest stories are yours yet to tell--stories that can't be scripted or planned in advance, but are absolutely sure to take place as your church begins walking together, epxerience by experience, moving closer each day to the kind of community that makes the gates of hell tremble on its hinges. After all, there's church...and then there's A God-Centered Church.