Find this product on Logos.com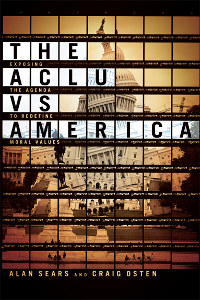 The ACLU vs. America
Exposing the Agenda to Redefine Moral Values
Product Details
As a result of the work of the American Civil Liberties Union and their war on America, we now live in a country where the church has been progressively silenced, parental authority has been undermined, children are less safe, and human life continues to be cheapened-both at birth and death. While the ACLU and its allies in the media have positioned themselves as the great defenders of freedom, they are in reality eliminating the freedoms of millions of Americans. Sadly, most Americans are unaware of the extreme positions of the ACLU. But there is hope. Many Americans are waking up to the dangerous agenda of the ACLU. The ACLU vs. America will clue readers in to the culture wars afoot and will equip them to become effective agents for liberty and freedom against the ACLU's onslaught.
About the Authors
Alan Sears is president, CEO, and General Counsel of the Alliance Defense Fund, an organization dedicated to defend and protect the right to hear and speak the truth.
Craig Osten is the Vice-President of Presidential Communications and Research for the Alliance Defense Fund. He has nearly twenty years of experience providing writing and research assistance to national religious organizations.
Endorsements
Few Americans realize how radical the ACLU has become and the threat that it poses to liberty. This well researched and documented book pulls the veil away and exposes the ACLU's true agenda.