Find this product on Logos.com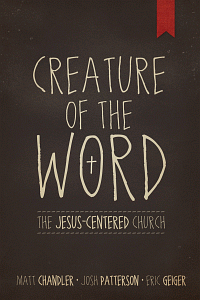 Creature of the Word
The Jesus-Centered Church
Product Details
The Reformers viewed the gospel as not merely one thing among many in the life of a church but rather the means by which the church exists. When the gospel is rightly declared and applied to God's people, the church becomes "a creature of the Word." She understands, embraces, and lives out the reality of Christ's birth, life, death, and resurrection in more than her doctrinal statement. The gospel impacts all the church is and does.
Creature of the Word lays out this concept in full, first examining the rich, scripture-based beauty of a Jesus-centered church, then clearly providing practical steps toward forming a Jesus-centered church. Authors Matt Chandler, Eric Geiger, and Josh Patterson write what will become a center- ing discussion piece for those whose goal is to be part of a church that has its theology, culture, and practice completely saturated in the gospel.
About the Authors
Matt Chandler serves as Lead Pastor of Teaching at The Village Church in the Dallas/Fort Worth metroplex. He came to The Village in December 2002 and describes his tenure as a replanting effort where he was involved in changing the theological and philosophical culture of the congregation. The church has witnessed a tremendous response growing from 160 people to over 11,000 with campuses in Flower Mound, Dallas, Denton and Fort Worth.
Eric Geiger serves as the vice president of the Church Resource Division at LifeWay Christian Resources. Eric received his doctorate in leadership and church ministry from Southern Seminary. He is also a teaching pastor and a frequent speaker and consultant on church mission and strategy. Eric has authored or co-authored several books including the best-selling church leadership book, Simple Church. He is married to Kaye, and they have two daughters, Eden and Evie.
Josh Patterson serves as lead pastor of Ministry Leadership at The Village Church located in the Dallas/Fort Worth region of Texas. He and his wife, Natalie, are the proud parents of Lily, Luke, and Liv.
Endorsements
Creature of the Word will make you rethink much of what you think you know about the Church, its message, and its mission. I welcome the conversations this book will spark.
Too often Jesus Christ is central to our theology but not to the way we do church. This book serves as a needed reminder and a powerful corrective for those of use who must continually recalibrate our ministry for Jesus with the person and work of Jesus.
A foundation, practical, and helpful book for both Christians and church leaders.
A fresh challenge (that) will help us establish a biblical foundation in regard to the ONE THING Jesus promised He would build.
Whatever your role or place among the people of God, do not hesitate to pick up this book and be refreshed by the insights, observations, and challenges you'll find here.
Creature of the Word excites me because I know the result of churches centering themselves on Jesus, and His redemptive mission will result in God's people engaging in kingdom work. Church leaders and staff teams should read and discuss this book in community.