Find this product on Logos.com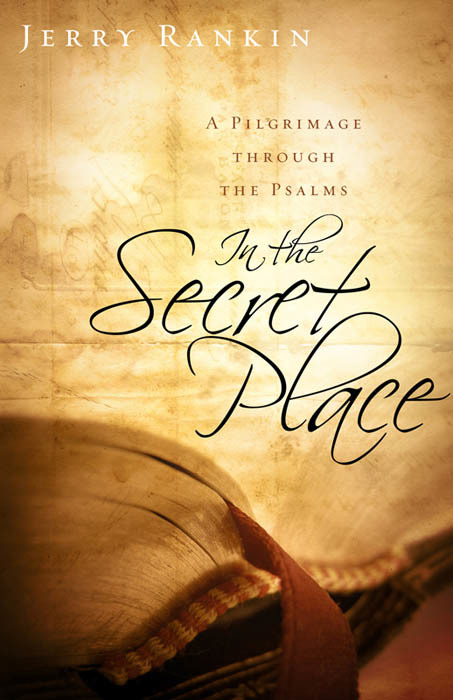 In the Secret Place
A Pilgrimage through the Psalms
Product Details
For years, International Mission Board president Jerry Rankin has begun each day by reading and meditating on a Psalm. "The Psalms reveal the nature and character of God," he explains. "The graphic, picturesque language evokes images that stir our emotions and strengthen our confidence. To know that God is our rock, our shield, our fortress and our strong tower all convey an understanding we need each day."
In the Secret Place gathers devotions and prayers written by Rankin for each of the one-hundred-fifty chapters in the book of Psalms. Personal yet universal, they reflect an openhearted journey of faith and deepening love for God to which the reader will aspire.
About the Author
Jerry Rankin and his wife, Bobbye, spent twenty-three years as missionaries in Asia until he became International Mission Board president in 1993. He now leads the IMB with a vision of missionaries, churches, and volunteers partnering to take the gospel to all people. Rankin earned a bachelor's degree from Mississippi College and his master of divinity from Southwestern Baptist Theological Seminary. The Rankins live in Richmond, Virginia.
Endorsements
In the Secret Place has helped me fall in love with God all over again. I can't think of a better way to start my day.
Jerry has given us a treasure chest of devotional reflections in this book. Relevant, thoughtful, and practical applications from each Psalm to everyday life makes In the Secret Place a book to savor and to share. Don't miss the introduction in which Jerry inspires us to deeper engagement with the Scriptures as he shares his own habits of prayer reflection morning by morning.
It has been said that to read the Psalms is to know the heart of David. I hasten to add that to understand and appreciate the heart of Jerry Rankin, one should read his meditations on these same Psalms. Not only have I come to know him better, But I've frown close to my heavenly Father through his inspiring devotional thoughts.
As his pastor, I've come to know and love Jerry Rankin's heart for God. Yet reading through In the Secret Place allowed me to know and appreciate his heart even more. My wife Loree and I read it at night together for our devotions. This is not a commentary, though he has the mind the product one. It is an inspiring journal of Jerry's pilgrimage of leaning on God.
In Psalms 46:10, GOd instructs us to be still before Him, that we might align our heart with His and allow Him to guide us onto paths that honor and glorify Him. In his book, In the Secret Place, Jerry Rankin carefully and lovingly guides us on an adventure into the heart of God and His Word. Laying out each Psalm in a personal and understandable application, this books is a wonderful tool to help the reader be still and listen, and deepen one's understanding and love for God.