Find this product on Logos.com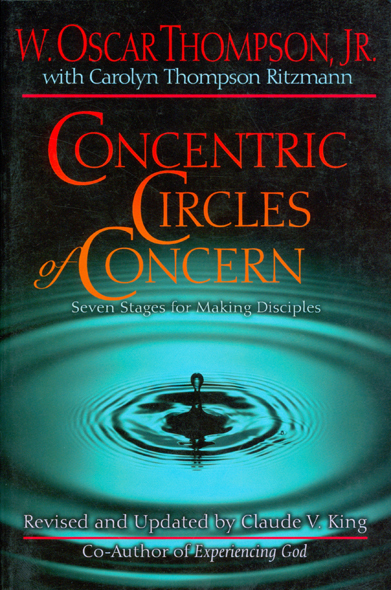 Concentric Circles of Concern
Seven Stages for Making Disciples
Highlights
This classic evangelism study concludes that effective ministry always starts close to home.
Product Details
Today's evanglelistic emphasis is often on preaching to strangers, anonymous crowds, and in foreign countries. But according to this newly revised edition of W. Oscar Thompson Jr.'s classic work, a successful ministry always starts at home. In Concentric Circles of Concern, Dr. Thompson gives specific details on how best to share Christ's love by meeting the spiritual needs of close family first, followed by friends, and then all others, moving outward in concentric circles.
Published posthumously, this books remains a living testament to Dr. Thompson's innovative method. Complete with testimonial strategies and biblical encouragement, this book is a precise and powerful guide to lifestyle evangelism, suitable for church study groups, conferences, or personal use.
About the Authors
W. Oscar Thompson, Jr., was a pastor for twenty years before joining the faculty of Southwestern Baptist Theological Seminary in the area of evangelism. He served as president of the Oscar Thompson Evangelistic Association; as pastoral consultant of Cancer Counseling and Research Foundation; and pastoral consultant and board member of the Trinity Valley Hospice Association, Inc. Thompson died in 1980.
Claude V. King is a consultant of the Office of Prayer and Spiritual Awakening. Co-author of the best-selling Experiencing God, Claude is also a discipleship training leader and the author of numerous learning programs.