Find this product on Logos.com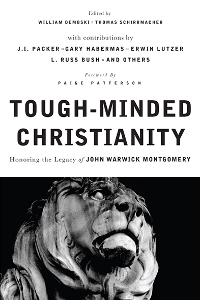 Tough-Minded Christianity
Honoring the Legacy of John Warwick Montgomery
Highlights
Contributions by J.I. Packer, Gary Habermas, Erwin Lutzer, L. Russ Bush and others
Foreward by Paige Patterson
Product Details
Tough-Minded Christianity is a collection of essays about the great work of John Warwick Montgomery (1931), a living legend in the field of Christian apologetics who has earned eleven degrees in philosophy, theology, law, and librarianship, debated historic atheists including Madalyn Murray O'Hair, and influenced the work of bestselling authors such as Josh McDowell.
Contributors to this volume include J. I. Packer, Ravi Zacharias, John Ankerberg, Erwin Lutzer, Vernon Grounds, Gary Habermas, and among others Paige Patterson who writes in the foreword that John Warwick Montgomery did the "intellectual heavy lifting" that undergirded the conservative renewal of the Southern Baptist Convention.
About the Editors
William A. Dembski is research professor in Philosophy at Southwestern Baptist Theological Seminary in Fort Worth, Texas. A mathematician and philosopher, he is also a senior fellow with Discovery Institute's Center for Science and Culture in Seattle. Dembski has appeared in discussions about intelligent design on ABC's Nightline, the BBC, NPR, PBS, CNN, Fox News and The Daily Show with Jon Stewart.
Endorsements
I was for many years a colleague of Dr. Montgomery and have shared with him in the defense of the faith. He is a man of encyclopedic knowledge and unswerving commitment to orthodox Christianity...one of the pioneers of historical apologetics and one of the foremost apologists of our time. His extensive knowledge, voluminous writings, and vigorous defense of creedal Christianity are virtually unparalleled in this field.