Find this product on Logos.com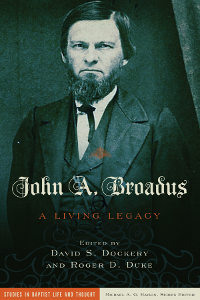 John A. Broadus
A Living Legacy
Product Details
John Albert Broadus (1827-1895) was a founding faculty member and the second president of The Southern Baptist Theological Seminary. He preached to Robert E. Lee's army during the Civil War and later wrote the enduring classic, A Treatise on the Preparation and Delivery of Sermons. A. T. Robertson called him "one of the finest fruits of modern Christianity." Charles Spurgeon deemed him the "greatest of living preachers." A. H. Newman described Broadus as "perhaps the greatest man the Baptists have produced." Indeed, the legacy of Broadus lives on today, reflecting a model author, teacher, preacher, scholar, seminary leader, and denominational statesman. This timely new biography, a collection of ten independently contributed chapters that address his work from various angles, presents Broadus as a shining example of balance, careful thinking, and biblical faithfulness in a season when Southern Baptists are seeking to re-establish a new consensus and move forward in the twenty-first century.
About the Editors
David S. Dockery is president of Union University in Jackson, Tennessee, recognized as a top tier institution by U.S. News and World Report and Time/Princeton Review.
Roger D. Duke is assistant professor of religion and communication at Baptist College of Health Services in Memphis, Tennessee, and adjunct assistant professor of Christian studies at Union University.
Endorsements
A fresh and dynamic presentation of one of America's outstanding church leaders of the nineteenth century. Every church leader ought to be acquainted with John A. Broadus.
Well-conceived, carefully researched...the book will help readers learn about Broadus but also enable those who are willing to learn from Broadus as well. Through this book Broadus can influence a needy church today through his lasting legacy.
This informative and inspiring treatment provides a bridge for connecting head and heart in preaching and is a breath of fresh air within the homiletical atmosphere.
Intellect on fire! That's what John Broadus brought to the pulpit and classroom and what the authors give us in this treatment of the life and legacy of the great Southern Baptist preacher, professor, and statesman. Everyone who preaches God's Word, teaches young ministers, loves the Bible, or simply cherishes our Baptist heritage needs to read this work.