Find this product on Logos.com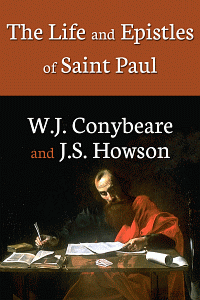 The Life and Epistles of Saint Paul
Highlights
Named as one of the 850 Books for Biblical Expositors by the Master's Seminary
Product Details
The Life and Epistles of Saint Paul, published in 1899, is still one of the best biographies of the Apostle Paul ever written. To understand Paul's perspective, the authors provide context for the time period--the education, professions, the state of the Roman Empire, the political positions, theologies, and more. By studying the details of first century Christian life, the book of Acts and Paul's letters are more understandable. This version is the People's Edition.
About the Authors
William Conybeare (1815-1857) was educated at Westminster, and also Trinity College in Cambridge, and was elected fellow in 1837. Soon after, he was principal of the Liverpool Collegiate Institution for six years, leaving for the vicarage of Axminster. First publishing essays, Conybeare published his first novel in 1856, Perversion, of the Causes and Consequences of Infidelity. His lasting work, The Life and Epistles of Saint Paul was co-written with J.S. Howson. He died in 1857 and is buried in London.
J.S. Howson (1816-1885) attended Giggleswick School and Trinity College in Cambridge. After graduating the first in 1837 and the latter in 1840, he was a private tutor at Cambridge. He became the senior classical master at Liverpool College with Conybeare, and afterwards acted as principal from 1849-1865. After being appointed Honorary Chaplain of the 1st Lancashire Rifle Volunteer Corps in 1865, Howson left Liverpool for the vicarage of Wisbech. In 1867, appointed dean of Chester Cathedral, he worked on restoration, partly leading to the creation of the Society for Protection of Ancient Buildings. Howson died in 1885, and is buried in the cloister garth of Chester.