Find this product on Logos.com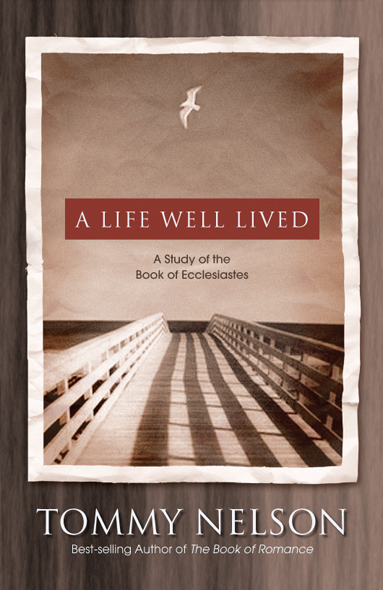 A Life Well Lived
A Study of the Book of Ecclesiastes
Product Details
In the desire and quest to make sense of the world and our existence, three great sirens have lured men and women into a lull with the empty promise to make their lives meaningful. The great king of Israel, Solomon, though the wisest man, was not immune to their song. But at the end of his life, Solomon, in all of his God-given wisdom, stopped to contemplate on all that competed for his attention. He wrote his conclusions in the Book of Ecclesiastes. Tommy Nelson continues his study of Solomon's writings by taking an in-depth look at Ecclesiastes. In a world such as ours, where the search for meaning and purpose propels mankind to try everything under the sun, Solomon's conclusions ring louder than ever for a people who need answers more than ever.
About the Author
Tommy Nelson has served as the pastor of Denton Bible Church, located in Denton, Texas, since 1977. He is also a best-selling author (The Book of Romance, Better Love Now, A Life Well-Lived) and popular national marriage conference speaker. Nelson holds degrees in education and biblical studies and has been married to his wife Teresa for more than thirty years.
Endorsements
Perhaps the greatest of all acquisitions is a godly perspective of living--to understand the purpose, meaning, and joy of our existence. This book has done that for me, and I know it can do that for you.
Tommy offered me the privilege of reading the manuscript of this book shortly after I was diagnosed with metastatic breast cancer. In my sorrow and pain, I was struggling to accept what was happening in my life. Tommy's insight of Ecclesiastes and the wisdom of Solomon is clearly, thoroughly, and perfectly explained. His ability to teach the truth of God' Word displays a deep understanding of God's attributes and the need in man's heart. The book has given me peace and comfort. God's sovereign plan is always for our ultimate good.
I think this book should be required reading for everyone, especially young adults at the beginning of their lives! All of us, even as Christians, sometimes find ourselves feeling disappointed and disillusioned with life and wondering why things happen the way they do. We strive to find meaning and purpose to our lives, especially in the midst of adversity. This is a book that brings the truth of God's Word alive in a away that helps us discover the true purpose in life, to live as we ought to live, to draw us closer to God, and to rest in His sovereignty over all things. Thanks, Tom, for bringing this message in a way we can all understand!