Find this product on Logos.com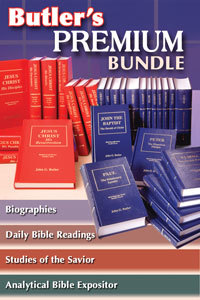 Butler's Premium Bundle - 61 Volumes
Highlights
Features all of the works currently available from author John Butler
Product Details
Now you can get all of John G. Butler's writing in this handy collection. Discover the in-depth truths of Jesus Christ in the Study of the Savior Series. Learn more about your favorite Bible character, or discover hidden truths about characters you know little about in the Bible Biography Series. Strengthen your relationship with God through the Daily Bible Readings and Sermonettes! Also included is the Analytical Bible Expositor..
About the Author
John G. Butler has been a Baptist minister for over half a century with "pastorates in Williamsburg, Ohio; Detroit, Michigan; Chicago, Illinois; and Clinton, Iowa. He is a veteran of the United States Navy, attended Tennessee Temple University and graduated from Cedarville University. Butler is also the author of the Bible Biography Series —a twenty-seven volume series about major Bible characters; the Studies of the Savior —a ten volume series about Jesus Christ; and, Daily Bible Reading—a unique four volume devotional series that emphasizes expository Bible study.
Endorsements
The Butler commentaries are the most spectacular blend of alliteration, interpretation, and application I have seen on Bible Software.
Products Included In This Bundle