Find this product on Logos.com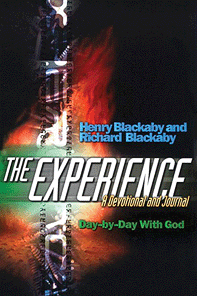 The Experience
A Devotional and Journal
Product Details
Looking for the fast track to truth about love, life, and happiness? Look to an experience that will change you forever.
Today's Christians have to wrestle with tough decisions about life situations every day. What's right? What's good? How do you know? Where do you turn in this world of murky messages to learn what's really right and really wrong?
You need to experience the One who cuts through all the hype, cultural confusion, and peer pressure. The God who knows your heart. The God who understands everything you've been through, what you're facing, and can tell you how to lead a good and happy life.
God has a specific destiny planned just for you. The Experience will help take you there as it challenges you to develop a fresh, vital new relationship with the Lord and walk with him every day. Henry and Richard Blackaby tell you how in direct, approachable language, with unique biblical perspectives on ways the experience of God's presence leads you to confidence, conviction and fulfillment in every part of your life.
About the Authors
Richard Blackaby is president of Blackaby Ministries International. A noted writer and speaker, he co-authored the revision of Experiencing God with his father Henry Blackaby. Richard and his wife have three children.
Henry Blackaby is founder and president emeritus of Blackaby Ministries International, an organization built to help people experience God. Born in British Columbia, he coauthored the modern classic Experiencing God: Knowing and Doing the Will of God (more than seven million books and Bible studies sold), and his other acclaimed works include Spiritual Leadership, Fresh Encounter, and A God Centered Church. He and his wife have five children, fourteen grandchildren, and live in Rex, Georgia.