Find this product on Logos.com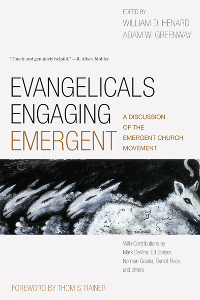 Evangelicals Engaging Emergent
A Discussion of the Emergent Church Movement
Product Details
The Emergent/Emerging Church often seems hard to define--adherents even describe their faith proceedings as a conversation, open to further development. And some are closer to more traditional streams of belief, while others are averse to long-held conservative Christian doctrines.
Evangelicals Engaging Emergent draws from a broad spectrum of conservative Evangelicalism to serve as a clear, informative, fair and respectful guide for those desiring to know what "Emergent" means, why it originated, where the movement is going, and where they sometimes wave theologically.
This practical book includes essays by Danny Akin, Doug Blount, Darrell Bock, Mark DeVine, Norman Geisler, John Hammett, Chuck Lawless, Robbie Sagers, Jim Shaddix, Scott Smith, and Ed Stetzer.
About the Editors
William D. Henard is senior pastor of Porter Memorial Baptist Church in Lexington, Kentucky, and assistant professor of Evangelism and Church Growth at The Southern Baptist Theological Seminary.
Adam W. Greenway is assistant professor of Evangelism and Applied Apologetics and associate vice president for Extension Education and Applied Ministries at The Southern Baptist Theological Seminary.
Endorsements
This collection of brilliant essays is a must read for contemporary church leaders and thoughtful Christians. The essays critique both the strengths of the 'doctrinally friendly' stream of the Emergent toward culture sensitivity and the weakness of the 'doctrinally way/averse' stream's penchant toward moral, biblical, and theological relativism. The essays are thought-provoking, thoughtful, well-researched, judicious, and readily accessible.
This work gives a fair, sympathetic look toward the strategies of those trying new things to reach a postmodern culture, but through the lens of historic gospel orthodoxy. Reaching a secularized Western world will certainly require creative thought and new methods, but never at the expense of truth and integrity of life. Evangelicals Engaging Emergent is a great tool for constructing a faithful, and effective, ministry to a new generation.
The so-called 'emerging church has now become a major focus of evangelical attention--and for good reason. This new movement presents a significant challenge to evangelical Christianity in this generation, and it both deserves an demands a fair and thoughtful consideration. Bill Henard and Adam Greenway and their team of writers provide us all a much-needed evaluation of this movement. This book is timely and genuinely helpful.