Find this product on Logos.com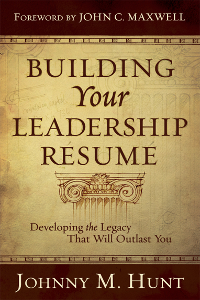 Building Your Leadership Resume
Developing the Legacy That Will Outlast You
Product Details
Are you a leader who desires to be used for great purposes, to effect lasting change, and to positively influence generations to come? Perhaps God's related plans are beyond what you have even yet dreamed.
Johnny Hunt often shares his unique Christian testimony: a shy, rebellious kid whose alcoholic father left a wife and six children to fend for themselves, Johnny did not embrace faith until adulthood. So when he talks from a leader's perspective about investing in people, overcoming insecurities, making situations better, earning respect, and living intentionally, his words ring especially fresh and true. Building Your Leadership Resume is Hunt's presentation of wisdom-focused insights that will simply yet greatly enhance any business or ministry. He will guide you toward becoming a selfless, results-driven leader whose impact on others will be immediately rewarding and eternally significant.
About the Author
Johnny M. Hunt is president of the Southern Baptist Convention and senior pastor of First Baptist Church in Woodstock, Georgia. Dr. Hunt holds degrees from Gardner-Webb College and Southeastern Baptist Theological Seminary and is also the author of Building Your Spiritual Resume. He and his wife, Janet, have two children and four grandchildren.
Endorsements
I have observed Johnny Hunt and his ministry for many years. And I have used various words to describe this man of God: integrity, visionary, servant, character, and passion. One thing I have yearned to do is to sit down with Dr. Hunt and let him share with me his philosophy of leadership. I knew that such a moment would be some of the best training I could receive. I no longer have to wait. Johnny Hunt has written the book that tells this story. I hope to get Building Your Leadership Resume into as many hands as possible. But first I must learn from this dear servant as I hear from my good friend and the great God he serves.
Johnny Hunt clearly demonstrates how God is the ultimate model of a leader: faithfully at work in our lives for our good and in ways that we often cannot even imagine. I have gained much from Johnny over the years, both in his teaching and example, and I trust the reader will be richly rewarded as well. This is a much-needed book for our time.
Johnny Hunt knows and loves God's leaders. And God's leaders know and love Johnny Hunt! He has proven to be one of the most passionate and compassionate leaders of our day. His life is a prototype for all of us to emulate. His example is a challenging profile in what a leader should be. These pages will prove to be a map to successful leadership and ministry in every life. It is a must read for those whom God has called to be His ministry leaders!