Find this product on Logos.com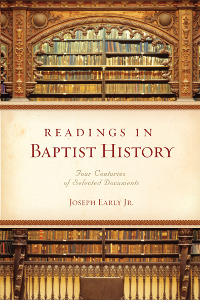 Readings in Baptist History
Four Centuries of Selected Documents
Highlights
An entire library in one book
Product Details
Readings in Baptist History compiles four centuries of the the most notable religious documents from the Baptist tradition in a single setting, from John Smyth's "The Character of the Beast" in 1609 all the way up to the 2000 revision of the Southern Baptist Convention's "Baptist Faith and Message." This primary source Baptist history volume can be used as a first-rate companion to larger history texts or stand strongly on its own.
Also featured are Thomas Jefferson's "Letter to the Danbury Baptist Association," letters from missionary Lottie Moon, "Letter from the Birmingham Jail" by Martin Luther King Jr., and new writings on the modern resurgences of both conservatism and Calvinism.
In all, the book contains key information concerning the theology, origins, conflicts, denominational organization, and historical events of early English Baptist, American Colonial Baptists, Southern Baptists, American Baptists, the Baptist Missionary Association, European Baptists, Baptist Bible Fellowship, and the Cooperative Baptist Fellowship plus profiles of of influential pastors, theologians, missionaries, Baptist leaders, and much more.
About the Author
Joe Early, Jr. is assistant professor of Religion at the University of the Cumberlands in Williamsburg, Kentucky. He holds a degree from Cumberland College (B.S.), Midwestern Baptist Theological Seminary (M. Div.), and Southwestern Baptist Theological Seminary (Ph.D.).
Endorsements
The most significant sourcebook on Baptists since Leon McBeth's book of readings in 1991. Helpful notes and indexes make the compilation even more useful. A necessary and valuable addition to the libraries of pastors, students, and Baptist historians.
Early has done a superb job in revising this collection of primary Baptist sources. I confidently expect a renewed life and usefulness for these documents. They will enrich the lives of countless students and other serious readers in years to come.