Find this product on Logos.com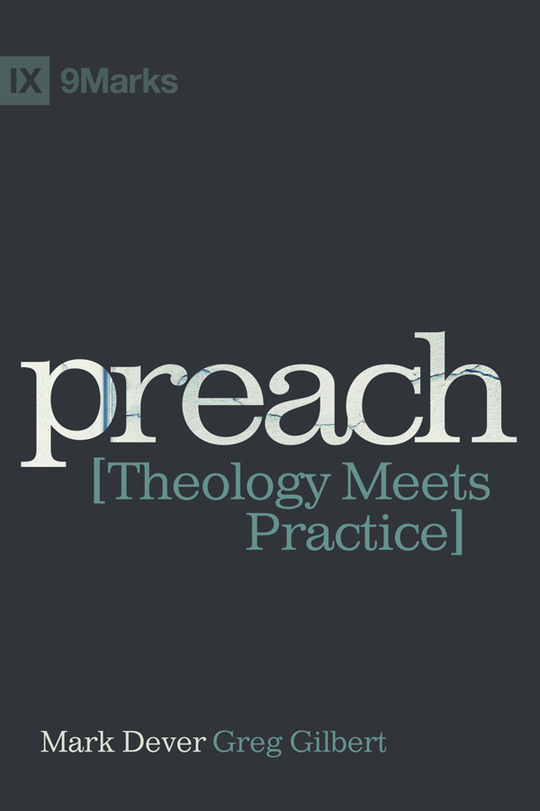 Preach
Theology Makes Practice
Product Details
Mark Dever, senior pastor of Capitol Hill Baptist Church in Washington, DC, and president of 9Marks, is widely respected for his efforts to build biblically faithful churches in America that will impact the nations. In this book about one of the practical distinctives of that work, Dever and his former student Greg Gilbert offer a theological and practical guide emphasizing the centrality of expositional preaching -- sermons intentionally rooted in a specific Bible text.
Dever and Gilbert clearly explain how God exercises His divine power through the Word, making it the basis of any relationship we have with Him. Thus, preaching directly from Scripture should be at the center of church life. Toward that goal, the authors give practical advice on how pastors can decide what texts to preach on, how to prepare and outline their sermons, and how to deliver and review those presentations.
Pastors will especially appreciate the book's final section: transcripts of past sermons from Dever and Gilbert augmented by insightful conversations between them about how each sermon was planned and whether or not is was effectively implemented.
About the Authors
Mark Dever is senior pastor of Capitol Hill Baptist Church in Washington, DC and president of 9Marks. He holds degrees from Duke University (B.A.), Gordon-Conwell Theological Seminary (M.Div.), The Southern Baptist Theological Seminary (M.Theol.), and Cambridge University (D.Phil.).
Greg Gilbert is senior pastor of Third Avenue Baptist Church in Louisville, Kentucky, and the author of What Is the Gospel? He holds degrees from Yale University (B.A.) and The Southern Baptist Theological Seminary (M.Div.).
Endorsements
I've always considered it a privilege to spend time with Mark Dever— his fellowship has edified, encouraged, enlightened, and enthused me. This book on preaching invites us into the ongoing conversation with his colleague Greg Gilbert. From their shared theological commitment to preaching God's Word, it provides a plethora of practical clues to the art of preaching a sermon. It will stimulate both the novice and the experienced to improve our preaching. Buy it for yourself or your pastor.
I have often wished I could spend a day with some master expositors I admire just to watch how they study and prepare to share the Word of God from the pulpit. How do they choose a text or strategize to help their people grasp the big picture? What does the very personal thought process and the crafting of the sermon look like? That's why I love Preach! It affords the reader the opportunity to engage two great preachers in a warm conversation that will reap preaching dividends for a lifetime of ministry. Part philosophy, part methodology, but all encouragement, this is the best book on preaching I've read in a long time.
Worshipful, intellectually rich, humble, and humorous, this book was a delight to read. Gilbert and Dever make a strong case for the recovery of the centrality of the preached word in the church. Preaching is not the church's job; it is the church's life. Full of great insight and practical wisdom, I wish every pastor would immerse himself in the book.
Mark Dever and Greg Gilbert are two of my favorite preachers. They both believe the Bible says something eternally important for every person. The Lord has gifted Dever to make me think about what the Bible says. The Lord has gifted Gilbert to make me see or visualize what the Bible says. This book combines both of those gifts to help us preachers and listeners think about and visualize "good preaching." I'm so thankful they've teamed up to give us this readable, to-the-point, theologically sound, practical, and inspiring book on preaching.
This little book gets at the heart of expositional preaching in a clear, concise, and enjoyable way. The theological section is insightful and powerful, the Christ-centered emphasis is timely, and the practical instruction is helpful. The gracious, encouraging, and pastoral tone makes you want to improve but also allows you to marvel at the privilege or preaching. I loved hearing of the differences in approaches between Dever and Gilbert—from sermon introductions to sermon notes/manuscripts to "sermon walks." Both, driven by the same convictions, work at their craft in unique ways. I also love the various ways they do exposition, such as book overview sermons and preaching through large portions of Scripture. I plan on using this book in class for students preparing for ministry, but seasoned preachers will also find encouragement and hep as they continue to preach the unsearchable riches of Christ.