Find this product on Logos.com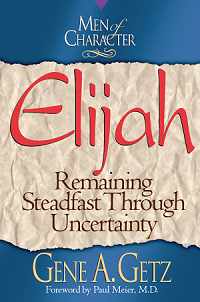 Men of Character: Elijah
Remaining Steadfast Through Uncertainty
Highlights
Foreword by Paul Meier, M. D.
Product Details
Modern idols come in many forms: money, power, position, prestige. Elijah dedicated himself to destroying the idols of his day with a deep conviction and unwavering tenacity that few have equaled since. His simple, straightforward prophecy to Ahab was that there wold be no rain until the people destroyed their idols. Even though Elijah was at times fearful, lonely, and lacking in faith, he remained steadfast to deliver a message that the Israelites, the Me Generation, and every generation in between has been quick to forget: man-made gods are no gods at all. The story of Elijah is a vivid illustration that idolatry leads inevitable to divine judgment, and that as Christian men, we must take a strong stand against this world's system.
The Men of Character series highlights the lives of men in the Bible and demonstrates that we can still learn from their relationships—both with God and man. Each of these Bible characters faced trials, frustration and failure, yet they were inspired by God to achieve great goals. In a world where Christian role models seem increasingly rare, this series reminds us that some of the most worthy examples of godly character are still the biblical figures who brought power, wisdom and inspiration to God's people throughout the ages. Principles flow through their lives that will guide us through the maze of challenges we face in today's world and can help us to emerge victoriously.
About the Author
Dr. Gene A. Getz is the host of "Renewal Radio" heard on stations across the U.S. as well as online worldwide. A church-planting pastor in the Dallas Metroplex since 1972, he is also president of the Center for Church Renewal, pastor emeritus of Chase Oaks Church (formerly Fellowship Bible Church North) in Plano, Texas, and an adjunct professor at Dallas Theological Seminary.