Find this product on Logos.com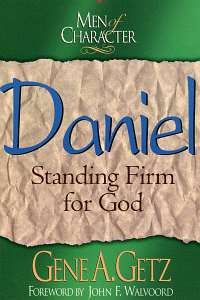 Men of Character: Daniel
Standing Firm for God
Highlights
Foreword by John F. Walvoord
Product Details
The familiar story of Daniel and the lion's den—the fantastic tale of God's fidelity to his dedicated servant—is only the starting point for this latest volume of the Men of Character series. Gene Getz digs deep into the story of Daniel, who, by the age of twenty, was second only to King Nebuchadnezzar in authority over the Babylonian empire. This book draws modern parallels with the remarkable true story of a young man torn away from his family, thrust into an alien land, and then revered as one of its great leaders. The story of Daniel's political and spiritual odyssey is one that still applies, even amidst our fast-paced society, and the words and deeds of this magnificent prophet can inspire the people of God.
"This exposition of the Book of Daniel, more so than any commentary which I have read, is distinguished by its practical application and the reduction of difficult doctrines to explanations that anyone can understand." — Dr. John F. Walvoord
The Men of Character series highlights the lives of men in the Bible and demonstrates that we can still learn from their relationships—both with God and man. Each of these Bible characters faced trials, frustration and failure, yet they were inspired by God to achieve great goals. In a world where Christian role models seem increasingly rare, this series reminds us that some of the most worthy examples of godly character are still the biblical figures who brought power, wisdom and inspiration to God's people throughout the ages. Principles flow through their lives that will guide us through the maze of challenges we face in today's world and can help us to emerge victoriously.
About the Author
Dr. Gene A. Getz is the host of "Renewal Radio" heard on stations across the U.S. as well as online worldwide. A church-planting pastor in the Dallas Metroplex since 1972, he is also president of the Center for Church Renewal, pastor emeritus of Chase Oaks Church (formerly Fellowship Bible Church North) in Plano, Texas, and an adjunct professor at Dallas Theological Seminary.