Find this product on Logos.com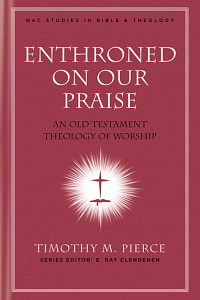 New American Commentary Studies in Bible & Theology: Enthroned on Our Praise
An Old Testament Theology of Worship
Product Details
About the New American Studies in Bible and Theology

The books in this series often take a biblical difficulty as their point of entry, remembering B.F. Westcott's point that "unless all past experience is worthless, the difficulties of the Bible are the most fruitful guides to its divine depths."
This new series is to be a medium through which the work of evangelical scholars can effectively reach the church. It will include detailed exegetical-theological studies of key pericopes such as the Sermon on the Mount and also fresh examinations of topics in biblical theology and systematic theology. It is intended to supplement the New American Commentary, whose exegetical and theological discussions so many have found helpful. These resources are aimed primarily at church leaders and those who are preparing for such leadership. We trust that individual Christians will find them to be an encouragement to greater progress and joy in the faith. More important, our prayer is that they will help the church proclaim Christ more accurately and effectively and that they will bring praise and glory to our great God.
About Enthroned on Our Praise
Enthroned on Our Praise, volume four in the New American Commentary Studies in Bible and Theology series, examines God's relation of Himself in the Old Testament, prompting readers to deeply consider what He truly desires from faithful followers in times of worship.
An excellent resource particularly for pastors, worship leaders, and worship classes, Enthroned on Our Praise looks at what the Scriptures identify as elements of worship and fosters a fresh appreciation of the Old Testament and its contributions to a close relationship with God. Users will find this an excellent extension of the long-respected New American Commentary series.
About the Author
Timothy M. Pierce is assistant professor of Old Testament at Southwestern Baptist Theological Seminary in Fort Worth, Texas. He holds a Ph.D. and M.A. from that same seminary and a B.A. from Wayland Baptist University. Pierce is married and has three children.
Endorsements
Tim Pierce has written a fine study of Old Testament worship that possesses some of the features of an Old Testament theology. In examining each canonical division of the Old Testament he ensures a broad and balanced treatment of the subject, beginning with the creator God, the object of worship who calls human beings into relationship with him. There are welcome emphases on the relationship between worship and right living, on the character of the person who worships, and on the nature of the worshipping community. In the process, there are judicious interpretations of a range of key texts in Old Testament theology. This rewarding study helps bring the Old Testament to life for today's church.
Professor Pierce has given us a theological survey of the whole Old Testament. He grounds worship in its bedrock theological structures, showing how worship ties God, humanity, and creation together. Pastors will preach better and church members will worship better after reading this masterful book.