Find this product on Logos.com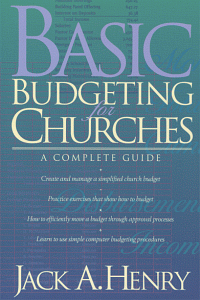 Basic Budgeting for Churches
A Complete Guide
Product Details
Take the mystery out of managing God's money. Good stewardship is crucial to the success of God's church. Yet for ministers and laity alike, managing congregation finances can be confusing, exasperating and downright uncomfortable. In this clear, comprehensive guide, church financial management expert Jack Henry explains all the basics of building a strong, solid church budgeting system, using non-technical language wherever possible and providing user-friendly definitions when required.
Basic Budgeting for Churches covers everything from developing a budget proposal to making cash flow projections. Each step includes helpful sample forms with complete instructions and commentary.
About the Author
Since 1972, Professor Henry has taught financial management for new pastors and churches at Baptist Bible College and Baptist Bible College East in Boston, where he is also executive vice president emeritus. He has also been an Air Force pilot, a pastor, and college development director.