Find this product on Logos.com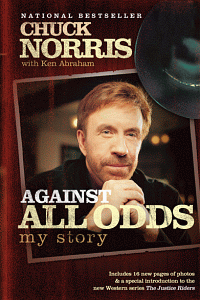 Highlights
A New York Times best seller
Includes 16 new pages of photos and a special introduction to the Western series The Justice Riders
Product Details
Millions of people worldwide know Chuck Norris as the star of more than twenty motion pictures, a martial arts expert, and the only man in the Western Hemisphere to hold an eighth degree Black Belt Grand Master in Tae Kwon Do.
Countless others see him daily in syndicated reruns as the hero of the longest running CBS series to date, "Walker, Texas Ranger." What many don't know is that Chuck Norris is a sincere Christian–a man whose faith plays a role in everything he does.
Against All Odds is the inspirational story of how Norris overcame abject poverty from childhood, the effects of his father's alcoholism and desertion of the family, and his own shyness and lack of strength and ability early in his life. Norris writes candidly about the past and gives God full credit for where he is today.
About the Authors
Chuck Norris is a legendary film and television actor best known for his popular series Walker, Texas Ranger, now in syndication to millions worldwide. He is also a martial arts expert, an active humanitarian and founder of KICKSTART, and author of the New York Times best-selling autobiography Against All Odds. Norris also writes a column that appears in Human Events, Town Hall, and World Net Daily, among other outlets. He lives with his wife Gena and their children near Houston, Texas.
Ken Abraham is a New York Times best-selling author who has cowritten books with Joel Osteen (Your Best Life Now), Chuck Norris (Against All Odds), Lisa Beamer (Let's Roll!), and Tracey Stewart (Payne Stewart: The Authorized Biography).
Endorsements
The facts of Norris's life make this book compelling.