Find this product on Logos.com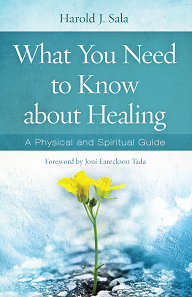 What You Need to Know about Healing
A Physical and Spiritual Guide
Product Details
Combining careful research, biblical narratives, and personal stories of physical and spiritual healing, internationally known Bible teacher and counselor Dr. Harold Sala points to how trusting God yields lasting and eternal rewards in What You Need to Know About Healing. While no one is promised tomorrow, you will receive true encouragement for whatever circumstance may be yours, and you will better understand the compas- sionate nature of our Heavenly Father and how to find healing His way.
Chapters include "Is the Great Physician Still Practicing?" "Jehovah Rapha (the God Who Heals) in the Old Testament," "Healings that Defy Rationale," and "Redemptive Healing--Transforming Pain into a Life Purpose."
This dynamic resource is suitable for those who need physical or spiritual healing as well as for their family members, friends, caregivers, and other health or ministry professionals.
About the Author
Harold J. Sala is founder and president of Guidelines International, Inc., a ministry communicating the message of Jesus Christ so that people come to faith in the Lord and believers are discipled and strengthened. Sala has written dozens of books and is the featured speaker on "Guidelines: A Five-Minute Commentary on Living," a daily radio program broadcast on 1,000+ radio stations worldwide and translated into more than 15 languages.
Endorsements
Healing is a perplexing topic, and Harold Sala handles the complexities with skills and ease. You will find much to consider in this special book.
Practical, sane, and engagingly written, What You Need to Know about Healing teaches positive faith in the sovereign and powerful healer. It is a relief to be reminded that God can perform what is best through our sufferings, or heal us, or both, and that we can exercise full confidence in Him in every case. The book was a blessing and an encouragement to my own faith.
Harold Sala has combined faith and reason in an understandable, believable manner. Addressing both suffering and healing, this book, like the Bible, gives a clear view of reality! I know that one's faith will be increased in the great Physician after reading it.
Harold Sala's book What You Need to Know about Healing is a reminder of what many have forgotten—that Jehovah Rapha, the God who heals, is still healing today. Sala's book provides a strong Scriptural foundation for healing which gives hope and comfort in the time of need. I recommend it.
This book is greatly needed in the body of Christ, and Harold Sala is the one who needed to write it for us! Combining the compassionate heart of one who has personally and individually prayed for the healing of thousands around the world with his strengths as a teacher of the Bible, Harold gives us a book that will strengthen all who work and pray for the healing of those we love.