Find this product on Logos.com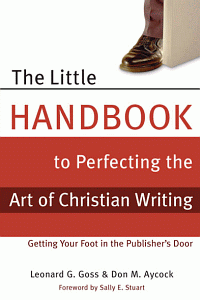 The Little Handbook for Perfecting the Art of Christian Writing
Getting Your Foot in the Publisher's Door
Product Details
In The Little Handbook to Perfecting the Art of Christian Writing, two publishing industry veterans have much to share beyond choosing subject matter, improving grammar, and strengthening sentence structure. Yes, those elements definitely matter and are duly addressed, but there are other skills to be polished if one wants to get a proverbial foot in the publisher's door. Readers will gain an insider's view of how the Christian publishing industry actually works. Key topics include building relationships with agents and editors, keeping up with industry trends, developing a strong book proposal, the growth of electronic publishing, and more.
For anyone called to Christian writing, this release provides the "know-how" that is needed to further the inspiration.
About the Authors
Leonard G. Goss is senior acquisitions editor at Broadman & Holman Publishers. He has also led editorial efforts at Crossway Books, Zondervan, and the Evangelical Book Club. He began his publishing career with John Wiley & Sons. Goss and his wife live in Franklin, Tennessee.
Don M. Aycock is a prolific author and seminar leader who speaks nationally on the topics of writing, prayer, men's issues, and ministry. He also pastors Liberty Baptist Church in Palatka, Florida.