Find this product on Logos.com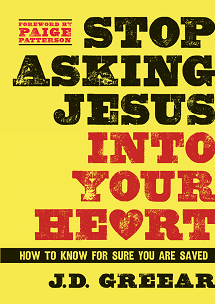 Stop Asking Jesus Into Your Heart
How to Know for Sure You Are Saved
Product Details
"If there were a Guinness Book of World Records entry for 'amount of times having prayed the sinner's prayer,' I'm pretty sure I'd be a top contender," says pastor and author J. D. Greear. He struggled for many years to gain an assurance of salvation and eventually learned he was not alone. "Lack of assurance" is epidemic among evangelical Christians.
In Stop Asking Jesus Into Your Heart, J. D. shows that faulty ways of present- ing the gospel are a leading source of the confusion. Our presentations may not be heretical, but they are sometimes misleading. The idea of "asking Jesus into your heart" or "giving your life to Jesus" often gives false assurance to those who are not saved—and keeps those who genuinely are saved from fully embracing that reality.
Greear unpacks the doctrine of assurance, showing that salvation is a posture we take to the promise of God in Christ, a posture that begins at a certain point and is maintained for the rest of our lives. He also answers the tough questions about assurance: What exactly is faith? What is repentance? Why are there so many warnings that seem to imply we can lose our salvation?
Such issues are handled with respect to the theological rigors they require, but Greear never loses his pastoral sensitivity or a communication technique that makes this message teachable to a wide audience from teens to adults.
About the Author
J. D. Greear is lead pastor of The Summit Church, a multi-site congregation in Raleigh-Durham, North Carolina. He holds an M.Div. in International Church Planting and a Ph.D. in Systematic Theology from the Southeastern Baptist Theological Seminary. Greear also lived and worked among Muslims in Southeast Asia for two years and wrote Breaking the Islam Code. He and his wife have four children.
Endorsements
Every Christian struggles with doubts about salvation. The comforting passages of Scripture, assuring believers of their hope in salvation, were written to build up faith in the face of doubt. Stop Asking Jesus Into Your Heart guides readers through both assurance and perseverance in a life-altering way. Greear's work is both an affront to easy-believism and a spotlight on the promises of God's Word. A comforting wake-up call.
This is a book I wish was available when I turned twenty and had a terrible season of doubting my salvation. By God's grace and the truth of the gospel I was able to settle the issue. I have lived in the full assurance of my salvation in Jesus ever since. God wants us to experience the joyful truth that we are eternally secure in Jesus. This book can help take you there. I will be recommending this book often!
As someone who works with young people, I often see the pitfall that my friend J.D. Greear explores in Stop Asking Jesus Into Your Heart; How To Know for Sure You are Saved. I have sat with many eighteen to twenty-four year olds that say they had no clue what they were doing when they repeated a prayer with someone as a young person. As next generation leaders, we have to focus on true life-change, really direction change rather than just a spiritual transaction. I am thankful that J.D. was willing to take on the hard discussions related to salvation and discipleship in this new book.