Find this product on Logos.com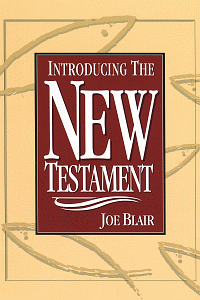 Introducing the New Testament
Product Details
As the most comprehensive witness to Jesus, the New Testament is a vital pathway that leads to understanding the Savior — His life, His ministry, His teachings, and even His will for Christians today. Likewise, Introducing the New Testament can be the pathway to understanding the New Testament — its background, its context and methodologies for reading and interpretation.
Designed as a core text for New Testament survey courses, the book helps the reader understand the New Testament by introducing its content and principles for its interpretation.
Introducing the New Testament discusses the New Testament in terms of:
Understanding - Introduces readers to issues of canon, inspiration, authority of the New Testament, and approaches to its interpretation.
Influences - A review of biblical and secular history introduces formative influences on the New Testament from early Jewish history through the intertestamental period.
Witness - Introducing the New Testament reviews the content of each New Testament book with an eye toward its witness to Jesus Christ. This review presents the books in canonical order and discusses authorship, original authorship, original audience, structure, major themes, and the unique features of each book.
Each chapter includes:
Special Graphics to help the reader see quickly important relationships and structures.
Maps & Photos that give the reader a graphic sense of the biblical world.
Outlines of Books that enable the reader to see the structure and major part of a Bible book.
Summary Questions of various levels of difficulty to reinforce mastery of concepts and to challenge the reader to high-level thinking skills.
Recommended Sources for further study on the topics presented in each chapter.
Introducing the New Testament will also be a resource for a self-guided study of the New Testament.
About the Author
Joe Blair is chairman of the Department of Religion at Houston Baptist University and author of When Bad Things Happen, God Still Loves.