Find this product on Logos.com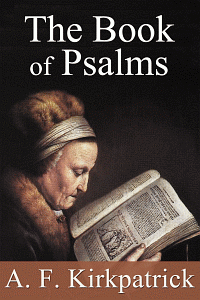 Product Details
The Old Testament is the religious history of Israel, and the poetry preserved in the Book of Psalms is, as might be expected, religious poetry...The Psalms stand in an intimate relation to the whole of the Old Testament. They are the inspired response of the human heart to God's revelation of Himself, in Law and History and Prophecy and Philosophy.
A. F. Kirkpatrick begins his commentary on the book of Psalms by explaining some general and helpful background information about the titles, the authorship, the age, the numbering system and more. He also talks about how they were collected, how Hebrew poetry is formed, along with other points of theology, including the Messianic promise, found in the books. He continues by going through each Psalm individually, breaking them down with detailed commentary.
About the Author
A.F. Kirkpatrick was Regius Professor of Hebrew at the University of Cambridge and a fellow of Trinity College.