Find this product on Logos.com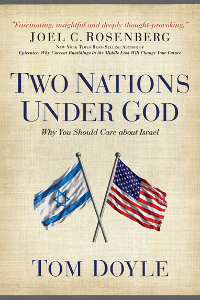 Two Nations Under God
Why You Should Care about Israel
Product Details
Why should you care about Israel? With the war in Iraq, possible engagement in Iran, and an imminent presidential election, U.S. foreign policy in the Middle East and the issue of solidarity with Israel remain important. In Two Nations Under God, American missionary Tom Doyle presents even greater reasons why the U.S. should show concern for Israel. Part one, "Why Should America Care?" is a biblical and historical primer on Israel with fascinating insights into connections between American and Middle East culture. Part two, "Sorting Out the Middle East Maze," presents more facts about Islam and the spiritual roots behind the Middle East conflicts. Part three, "Maximizing the Moment," is a call to action and prayer for the American church regarding the future of Israel. Best of all, readers will learn throughout that, despite the headlines, there is plenty of good news coming from the Middle East. Doyle reports on the increasing number of Muslims converting to Christianity, profiles local disciples and church planters, and provides helpful timelines, comparison charts, photographs, and more to keep every detail concerning Israel in perspective.
About the Author
Tom Doyle spent twenty years as a pastor in Colorado, Texas, and New Mexico before focusing exclusively on missions work in the volatile Middle East. He and his wife JoAnn have a heart for the nation of Israel and began leading tours there in 1995 where Tom eventually became a licensed guide for the State of Israel. Tom speaks frequently at churches and parachurch ministries about Israel. the Middle East, and the global threat of Islam. The Doyles have six children and reside in Monument, Colorado.
Endorsements
Chaos. Carnage. Confusion. For many, that's the modern Middle East. But Tom Doyle gets it. Better yet, he can really explain it. With a pastor's heart, he clearly and concisely describes why God loves the Jews of Israel and her Muslim neighbors, and why we should, too. What's more, Tom reveals how powerfully God is moving in the modern Middle Easy, and how we can join Him. Two Nations under God is a must read—fascinating, insightful, and deeply thought-provoking. Get one for yourself, and another for your pastor.
In Two Nations under God, Tom Doyle not only informs but inspires. Hope for the future is rare to find when it comes to the Middle East and Israel. Read this book and be informed not only about the history and political areas but of the witness of Jesus in the lives of people in the Bible lands. Tom helps us find ways to make a real difference and gives good news in troubled times. A must book for this day and time.
Tom Doyle knows no boundaries. He not only serves on the front line but on the spiritual front line in the Middle Easy, and has for many years. Two Nations under God is an extraordinary book! It looks into the political climate, turmoil, history, and future of the region. This is a must read for anyone hoping to understand why the Middle Easy is so volatile and what is driving this Holy War today. I am proud to call Tom Doyle a friend and brother in the Lord.