Find this product on Logos.com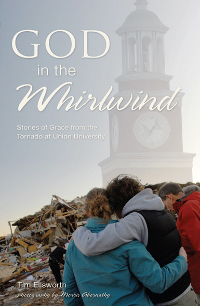 God in the Whirlwind
Stories of Grace from the Tornado at Union University
Product Details
When a powerful EF-4 tornado with winds in excess of 200 miles per hour slammed the Union University campus on February 5, 2008, destroying eighteen dormitory buildings and causing $40 million in damage, the immediate assumption was that dozens if not hundreds of lives would have been lost. Miraculously, nobody died, and the next morning major media outlets flocked to Jackson, Tennessee, where Union students and faculty credited God for their survival and got to share their faith with millions worldwide.
God in the Whirlwind recounts the entire experience through twenty eye-of-the-storm accounts from those who saw the walls and ceilings crashing down upon them and felt their ears pop as the pressure dropped, from anxious parents who waited for their child's call, and from Union leaders who marvel at the university's unbroken spirit in the face of such devastation. This inspiring book also includes eighty photographs that visualize God's mighty hand upon nature and his gentle hand of grace.
About the Author
Tim Ellsworth is the director of news and media relations for Union University and an editor with Baptist Press where he writes a faith and values-based sports column. He lives with his family in Jackson, Tennessee.
Endorsements
I'm convinced—nobody will ever convince me otherwise—that God's angels were unleashed to come as ministering spirits to His people that night and to protect those students in the most precarious of situations.
When the disciples saw Jesus' power over nature, they cried out with awe, 'What manner of man is this that even the wind obeys Him?' When I arrived at Union's campus and saw the twisted ruins, heaped rubble, and scattered debris, I could only marvel that the Lord had done it again! As powerful as nature is—supercharged with God's divine touch—the Creator himself is so much more powerful. The stories in this book will lead you to say with me, 'Blessed Be the Name of the Lord."
You will feel (the Union students') uncertainties and pain, hear their testimonies of faith, revel in their faithful trust in the providential care of a loving heavenly Father. You will enter a 'whirlwind' of God's grace and their be blessed beyond measure!