Find this product on Logos.com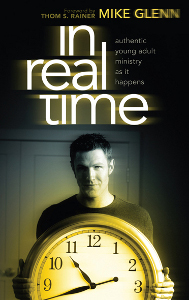 In Real Time
Authentic Young Adult Ministry as It Happens
Highlights
Foreword by Thom S. Rainer
Product Details
Research shows that churches are seeing a dramatic decrease in the membership of 18 to 34 year-olds. One major cause traces back to when the gospel was watered down to a non-confrontational level for baby boomers, resulting in a generation that proclaimed faith without changing its lifestyle. Now many among that generation's children feel less endeared to the church if not suspicious of its worth considering their parents' conflicting beliefs and actions.
As the need for relevant young adult ministry programs increases, the best example of a successful one in action today is Kairos, a weekly worship gathering of more than one thousand young single and married people in Nashville. Real Time tells the story of how this ministry unfolded, and its overriding message is one that churches everywhere can take to heart and apply.
About the Author
Mike Glenn is the senior pastor of Brentwood Baptist Church just outside Nashville, Tennessee, where he also leads Kairos, a popular weekly worship gathering of young adults. He holds degrees from the University of Alabama (B.A.) and Southern Baptist Theological Seminary (M.Div., D.Min.).
Endorsements
Kairos may be closer to the church of two thousand years ago than most of today. Read this book. But, even more important, open you eyes and minds to how Christians are supposed to act, to care, and to love.