Find this product on Logos.com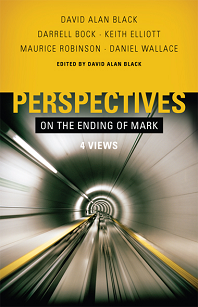 Perspectives on the Ending of Mark
Four Views
Product Details
Because it is conspicuously absent from more than one early Greek manuscript, the final section of the gospel of Mark (16:9-20) that details Christ's resurrection remains a constant source of debate among serious students of the New Testament.
Perspectives on the Ending of Mark presents in counterpoint form the split opinions about this difficult passage with a goal of determining which is more likely. Southeastern Baptist Theological Seminary professors Maurice Robinson and David Alan Black argue for the verses' authenticity. Keith Elliott (University of Leeds) and Daniel Wallace (Dallas Theological Seminary) contend that they are not original to Mark's gospel. Darrell Bock (Dallas Theological Seminary) responds to each view and summarizes the state of current research on the entire issue.
About the editor
David Alan Black is professor of New Testament and Greek at Southeastern Baptist Theological Seminary in Wake Forest, North Carolina. An avid horseman, he and his wife live on a 123-acre working farm in southern Virginia and are self-supporting missionaries to Mecklenburg County, Virginia, and Ethiopia.
Endorsements
Probably the best available orientation for those interested in the question of how Mark's Gospel should end...It is impressive that essayists here genuinely manage to say new things about this old issue.