Find this product on Logos.com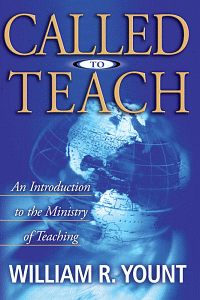 Called to Teach
An Introduction to the Ministry of Teaching
Product Details
The role of a teacher is a noble calling—a combination of explainer, listener, friend, coach, storyteller, and strategist. Anyone willing and wanting to accept this challenge will find invaluable guidance in this book.
Combining the best of Bible-based education theory with practical ministry, Called to Teach blends spiritual insight and disciplined academics into a unified and potent philosphy of teaching. Using biblical examples, learning theories, and personal experiences, it challenges both new and seasoned teachers, pastors, counselors, and professors to engage in the never-ending process of growing into more excellent teachers.
About the Author
William "Rick" Yount is professor and assistant dean of the Foundations of Education division, School of Educational Ministries, Southwestern Baptist Theological Seminary. He travels every year to teach pastors and missionaries in the former Soviet Union. Yount lives with his wife in Fort Worth, Texas.
Endorsements
Teaching is often a dull traffic signal monitoring the sluggish flow of stop-and-go ideas. But let those who have sat in a boring classroom—and those who have manufactured the boredom—take heart. Rick Yount has changed the metaphor. The traffic signals have become runway lights—and all things that once plodded have grown wings.
Called to Teach will ignite your passion for teaching, Yount reminds us that teaching is an art form that helps students think, ell, and do. This is another masterpiece from a master teacher.
Seldom has such a book captured the essence of what it means to be a 'Christian teacher' as has Called to Teach. Yount shares a conviction for teaching ministry that draws every Christian teacher backward to the renewal of God's call to teach and forward to the development of the necessary skills to fulfill that calling.
I have read many books on teaching. Rick Yount has thrown away the calcified literary model. No chapters on lecture, question-and-answer, or small groups—rather, techniques and strategies are given seminal presence as they emerge through images such as dramatic performer, motivator, dynamic synergist, evaluator, and minister. Fascinatingly illustrated from his own experience. one of the most interesting contributions of its kind I have read.