Find this product on Logos.com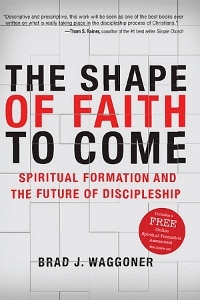 The Shape of Faith to Come
Spiritual Formation and the Future of Discipleship
Product Details
Various studies suggest Christians in North America are not qualitatively different in their character and practices than non-believers. While some churches are growing numerically, many wonder to what impact. Can we determine if our churches are producing Christians who look, think and act like true followers of Jesus Christ?
In The Shape of Faith to Come, research expert Brad J. Waggoner and his team measure the beliefs and actions of 2,500 active Protestant churchgoers from across the country against seven key standards of Biblical spiritual formation:
Learning the truth
Obeying God and denying self
Sharing faith
Serving God and others
Exercising Biblical faith
Building solid relationships
Seeking God
The findings reveal the current state and forecast of spiritual formation in the U.S.A. Adding encouragement to his insights, Waggoner calls all Christians to spiritual maturity and challenges church leaders to intentionally take up the mantle of making true disciples.
About the Author
Brad J. Waggoner is president and publisher of B&H Publishing Group. A former dean of the School of Leadership & Church Ministry at Southern Seminary, he holds a Master of Arts degree from Trinity Evangelical Divinity School and a Master of Religious Education degree and Ph.D. from Southwestern Baptist Theological Seminary. He is also the co-editor of Calvinism: A Southern Baptist Dialogue. Waggoner and his wife have two sons and live in Nashville, Tennessee.
Endorsements
Brad Waggoner is one of the leading evangelicals in the field and ministry of discipleship. He has a passion to see people who become followers of Christ and to grow in that walk. Dr. Waggoner takes that passion and combines it with one of the most comprehensive research projects on discipleship ever undertaken. This book truly gives us insight into the shape of faith to come among Christians in America.
The elephant in the room of evangelism is the surprising lack of discipled believers in all different kinds of churches. We have produced a cafeteria Christianity rather than a robust orthodoxy and Jesus-shaped spirituality. In this challenging and disturbing book, Brad Waggoner draws on twenty years of research in discipleship and spiritual formation to not just show us who we are, but to point us to what we must do. The Shape of Faith to Come will become a milestone as evangelicals begin to take discipleship seriously once again.
This book comes closer than any study with which I'm familiar to providing an insightful and objective evaluation of the spiritual condition of the church in America. Where is that church weak and where is she strong? Some of the answers indicated by The Shape of Faith to Come may surprise you.
Brad Waggoner, backed up by extensive research, takes a hard look at contemporary American church life. What he sees raises alarm. In realistically facing the evidence of mediocrity in the average Christian experience, he charts a course of action for the future. It is a serious call to biblical discipleship, a lifestyle of faith that overflows in obedient witness and service to a lost world. Sobering reading , to be sure, but take to heart the message of this book because it points the way to real revival.
Brad Waggoner has set out on a bold and daring undertaking in The Shape of Faith to Come that every spiritual leader who takes the mission of making disciples seriously must read. While others have examined the attitudes of those outside the faith, Brad has charted a new course in research by examining the spiritual formation of those who are followers of Jesus Christ. In many ways this book is our long overdue report card.