Find this product on Logos.com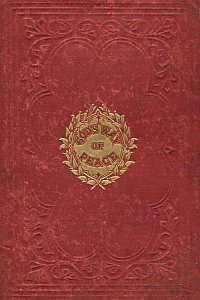 God's Way of Peace
A Book for the Anxious
Product Details
Nothing could be more important for the human soul than peace with God. In this classic book, Horatius Bonar, warns against seeking to appease the convicted conscience in any other way than through faith in Jesus Christ. Christ Himself is both Savior and complete salvation, not an assistant to help us find salvation in some other sphere. God's Way of Peace contains twelve illuminating chapters to direct readers from God's testimony concerning man, through righteous grace and the sprinkled blood, to full reliance on Jesus only.
This is a book for those seeking the full assurance of understanding concerning their own salvation as well as for those seeking to help others gain that assurance.
About the Author:
Horatius Bonar was born in 1808 and was the son of James Bonar, Solicitor of Exise for Scotland. Horatius was one of eleven children. He comes from a long line of ministers who have served a total of 364 years in the Church of Scotland. After studying Divinity under Thomas Chalmers at Edinburgh University, Horatius was licensed to preach in 1833. He was put in charge of mission work at St. John's Parish in Leith. Four years later he was moved to the church at Kelso.
In 1843 Horatius left the Church of Scotland and joined the Free Church. He married Jane Catherine Lundie and five of their young children died in succession. By this time he had started to write hymns, some of which appeared in a collection he published in 1845. Many of the hymns were said to be bereavements to his children. In 1853 Bonar earned the Doctor of Divinity degree at the University of Aberdeen and in 1866 was moved to Edinburgh to take over the Chalmers Memorial Church. He continued his ministry for another twenty years and in 1883, he was elected Moderator of the General Assembly of the Church of Scotland.
His health began to decline by 1887, and he was approaching the age of eighty when he preached in his church for the last time. He passed away in Edinburgh in 1889 and is buried in the Canongate Kirkyard. Dr. Horatius was a premillenarian and expressed his views in books, such as Prophetical Landmarks and in the Quarterly Journal of Prophecy, which he founded in 1849. He is probably best known for his poems and hymns which include, What a Friend We Have in Jesus and others equally as familiar.