Find this product on Logos.com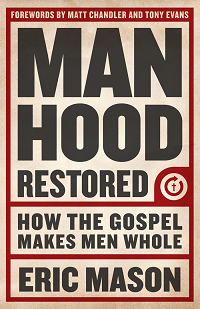 Manhood Restored
How the Gospel Makes Men Whole
Product Details
The earthly crisis within manhood will be there until Jesus returns, but in Christ men are pointed toward the gospel as the vision for renewal. Manhood Restored by exciting new pastoral voice Eric Mason combines theological depth with practical insights, putting men in step with a gospel-centered manhood that will enrich every facet of their lives.
Mason begins with The Scope of Manhood -- looking first at why God created man, at the divine differences between man and woman, and what should drive the purpose of a man during his time on earth.
A section on The Problems in Manhood analyzes the false icons that lead to cultural caricatures of men -- the businessman, the thug, the playboy, the athlete, etc. Mason then makes a connection to the cross-cultural fatherhood crisis, looking at the things men do to fill the void when their relationship with dad or God is not there.
Finally, The Redemption of Manhood sets Jesus as the true standard of biblical manhood, looking to his perfect example to redeem and restore a man's life in the areas of sexuality, home, and work.
About the Author
Eric Mason is cofounder and lead pastor of Epiphany Fellowship in Philadelphia, Pennsylvania. He holds degrees from Dallas Theological Seminary (ThM) and Gordon-Conwell Theological Seminary (DMin). Eric and his wife have two children.
Endorsements
In the thirty-two years I was a college coach I witnessed first-hand how young men were coming to college with the lack of a spiritual foundation that would prepare them for life's next set of challenges. You could tell that Godly parenting skills were sorely missing. Dr. Eric Mason in his book, Manhood Restored helps men regain their leadership role in the family. I would recommend this book to any father or husband who desires to step up to the challenge presented by Dr. Mason.
I have been a friend and fan of Dr. Eric Mason for over a decade. I could not be more excited about his voice speaking into what I believe is the most critical issue of our day, the state of our men. Manhood restored is a powerful resource that will help men of all ages understand the problems men create and how they can get on the solution side. The ideas and truths in this book are not just detached ideals written from an ivory tower...I have watched Eric work our his own masculinity in a powerful way as a husband, father, church planter, movement leader, and good friend.
Bold, fearless, Scripture saturated.
This fine work by one of my sons in the ministry does a masterful job of unearthing the biblical teaching of the Creator's intent in creating men.
Erica Mason has written a practical, biblical, and gospel-centered vision of true manhood. Saturated in the person and work of the Lord Jesus Chris, our perfect model of true manhood, Mason carefully addresses an essential key to changing our churches and communities—the discipleship of men. Read this book, brother, and watch the Lord change your life. Share it and watch the Lord change the brothers in your sphere of influence.