Find this product on Logos.com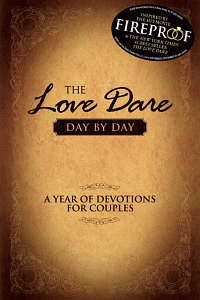 Love Dare Day by Day
A Year of Devotions for Couples
Highlights
From the writers of the No. 1 New York Times best-seller, The Love Dare.
Product Details
Love is a choice. A daily choice. The Love Dare Day by Day is a daily reminder of how it's done —and done well—taking the source material's original experience to the next level. With 52 weekly dares, this one-year devotional invites you to go deeper into the scriptural principles of The Love Dare and is meant to enrich your relationship with God and your spouse through a daily time of reading, prayer, and action. Make this more than a year of your life. Make it your bold, next step to a lifetime of love.
Features of this book include:
365 devotional readings on unique aspects of genuine love
52 weekly dares to help you express love in your marriage
Dozens of specific prayers to pray for yourself and your spouse
Questions to get you thinking strategically about your relationship
More than 100 Go Deeper sections that enhance personal Bible study
About the Authors
Stephen Kendrick is senior associate pastor of preaching and prayer at Sherwood Baptist Church in Albany, Georgia. He is also a screenwriter (Facing the Giants, Fireproof, Courageous) and movie producer and co-wrote the New York Times best sellers The Love Dare and The Resolution for Men with his brother, Alex. Stephen and his wife, Jill, have four children.
Alex Kendrick is associate pastor of movie outreach for Sherwood Baptist Church. He is also an actor, writer, and director whose film credits include Facing the Giants, Fireproof, and Courageous. He and his wife, Christina, have six children.