Find this product on Logos.com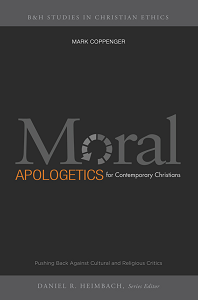 Moral Apologetics for Contemporary Christians
Pushing Back Against Cultural and Religious Critics
Product Details
Have Christians grown accustomed to those who defame the Church? Whether it's a best-selling author who claims "religion poisons everything" or an atheist comedian whose punch lines aren't hassled by the burden of proof, foes of the faith continue to declare Christianity morally deficient without much resistance.
In Moral Apologetics for Contemporary Christians, Mark Coppenger mixes compelling references—from classic philosophers to modern entertainers—to reasonably push back against both harsh critics and less intense cultural relativists, contending that Christianity is morally superior to its competitors as well as true.
Coppenger doesn't avoid uncomfortable realities like the misbehavior of many Christians and false teachers, but he sets the book's course in defense of his faith with evidence that a Christian approach to life makes people and societies flourish, while those who turn their backs on genuine Christianity are more liable to behave wickedly.
"I hope to help replenish our cultural confidence," he writes. "We have a great moral story to tell, and it surely points to the Author of Light and Life."
About the Author
Mark Coppenger is professor of Christian Apologetics at The Southern Baptist Theological Seminary in Louisville, Kentucky, senior pastor of Evanston Baptist Church in Illinois, director of Baptist Collegiate Ministries at Chicago's Northwestern University, and managing editor of Kairos Journal. He holds degrees from Southwestern Baptist Theological Seminary (M.Div.) and Vanderbilt University (Ph.D.).
Endorsements
I wish every Christian could have the opportunity of sitting in Mark Coppenger's classroom—a place of constant intellectual exchange, all aimed at developing a consistently biblical worldview. Well, reading this book is as close as many Christians may ever get to sitting in that classroom, but it is an experience not to be missed. This book is a tour de force of apologetic thought, revealing ethical issues to be apologetic opportunities. Fascinating on every page . . . get ready for a guided tour through contemporary culture and Christian apologetics.