Find this product on Logos.com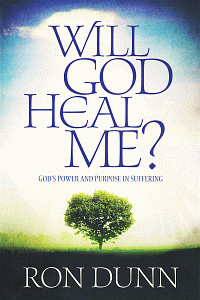 Will God Heal Me?
God's Power and Purpose in Suffering
Product Details
We would all prefer to maintain some level of control and avoid suffering at all costs. That's one main reason we work out, take vitamins, and check our heart rate — in hopes of not having to suffer in the future. But the Bible clearly teaches that no one is exempt from suffering and sickness.
In Will God Heal Me? the late pastor and author Ron Dunn waded through the misconceptions about human suffering to illuminate the unequivocal love, sovereignty, and goodness of God. This new edition of his acclaimed work introduces his teaching to the next generation that will surely benefit from this biblical insight.
About the Authors
Ron Dunn (1936 – 2001) was an international itinerate Bible teacher and pastor, and he served as minister-at-large for the MacArthur Blvd. Baptist Church in Irving, Texas. Among his books are Will God Heal Me? and the best-seller Don't Just Stand There — Pray Something. Dunn was also president of LifeStyle Ministries that produces Bible study and audio recordings and is now headed by his wife, Kaye.
Michael Catt has served as senior pastor of Sherwood Baptist Church in Albany, Georgia, since 1989 and is executive producer of the popular films Flywheel, Facing the Giants, Fireproof, and Courageous that originated from the congregation. He also authored Fireproof Your Life and founded the ReFRESH revival conference. Michael and his wife, Terri, have two children.