Find this product on Logos.com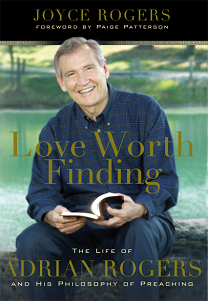 Love Worth Finding
The Life of Adrian Rogers and His Philosophy of Preaching
Product Details
Adrian Rogers is remembered as one of America's most respected Bible teachers, having communicated to millions through his Love Worth Finding radio ministry and as the former senior pastor of Bellevue Baptist Church near Memphis, Tennessee.
Through the last half of the last century, Adrian helped guide the Southern Baptist Convention, the largest protestant denomination in North America, through treacherous and troubling waters of theological liberalism and doctrinal heresy and back to the foundational truths that Christ's church was founded and has stood upon for centuries.
After pastoring for fifty-three years, thirty-two of them at Bellevue Baptist Church, Adrian Rogers stepped down from the pulpit in 2005 and passed away later that same year.
This book is in part a loving tribute to a Godly man, husband, and father from Joyce Rogers, the one who has been captivated by Adrian's passion for God and His truth.
Love Worth Finding also reveals the heart of the philosophy of Adrian Roger's preaching. Understanding this facet to Adrian is to understand much about his love and passion, and why his life's call was to the pulpit. Adrian's answering that call has impacted millions of souls and will continue to reap a harvest for the kingdom for generations to come.
About the Author
Joyce Rogers is the widow of legendary Baptist minister Adrian Rogers. A loving mother and homemaker living just outside Memphis, Tennessee, she has also written many inspirational books.