Find this product on Logos.com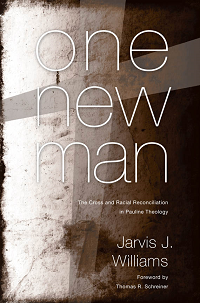 One New Man
The Cross and Racial Reconciliation in Pauline Theology
Product Details
In the Bible, Paul argues that sin has broken humanity's relationship with God as well as his fellow man, and he recognizes Jesus as God's provision for the universal problem of sin. Therefore, Christ's death for our sin is God's only solution to racial hostility and the only provision for racial reconciliation.
Today, many Christians still allow cultural prejudices to shape their understanding of race instead of scripture. One New Man endeavors to help Christians understand what the gospel says about race and race relations by focusing on selected Pauline texts. Since many churches have either limited their ministry to those within their respective race or homogeneous unit (people within the same ethnic, social, cultural, linguistic, or class context), author Jarvis Williams aims to liberate individual Christians and churches from their bondage to racist ideologies, from a secular model of race relations, and from their disdain toward different races that arise from both the impact of their respective cultures and from the universal impact of sin.
About the Author
Jarvis Williams is assistant professor of New Testament & Greek at Campbellsville University in Campbellsville, Kentucky. He holds degrees from Boyce College and The Southern Baptist Theological Seminary (M.Div., Th.M., Ph.D.).
Endorsements
Finally. The church has waited too long for an exegetical excavation and application of the Bible's teaching about ethnicity, Christ, the cross, and our new humanity. Jarvis Williams serves us all by helping us to see more clearly the implications of Paul's theology of the cross and reconciliation. Heartily commended.