Find this product on Logos.com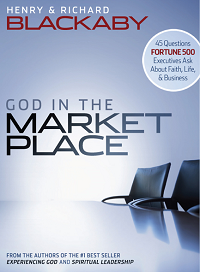 God in the Marketplace
45 Questions Fortune 500 Executives Ask About Faith, Life, and Business
Product Details
Aside from Experiencing God, Henry Blackaby has made his greatest impact by ministering directly to Fortune 100 and 500 CEOs, advising them on how to effectively blend their faith with their business. Out of that ministry's success comes God in the Marketplace, a book to help everyone from the front desk to the executive suite best experience God's will in his or her work.
Blackaby believes that just as Jesus had businessmen among His original disciples, so may God be calling out business people today in preparation for a worldwide spiritual revival. However, while those in the marketplace may have excellent educations and access to world-class leadership seminars, they often feel inadequate in matters of spiritual influence. God in the Marketplace will help them better understand what the Bible says about integrating their Christian faith with their work lives and provide biblical answers to the common yet difficult questions that are often raised for Christians at work.
About the Authors
Henry Blackaby is founder and president emeritus of Blackaby Ministries International, an organization built to help people experience God. Born in British Columbia, he coauthored the modern classic Experiencing God: Knowing and Doing the Will of God (more than seven million books and Bible studies sold), and his other acclaimed works include Spiritual Leadership, Fresh Encounter, and A God Centered Church. He and his wife have five children, fourteen grandchildren, and live in Rex, Georgia.
Richard Blackaby is president of Blackaby Ministries International. A noted writer and speaker, he co-authored the revision of Experiencing God with his father Henry Blackaby. Richard and his wife have three children.
Endorsements
Each page challenges 'conventional wisdom' with time-tested truth. Tremendous insights.
Clear, biblical perspectives. A 'must-read' for those seeking to achieve personal and business accomplishment.
Relevant, helpful, instructive, and encouraging.
God in the Marketplace is a powerful book. Henry and Richard share their wisdom on how the businessman can select the path to more Christlikeness in the marketplace.
Wonderful biblical insights...full of stores with practical application that will have you laughing and crying.