Find this product on Logos.com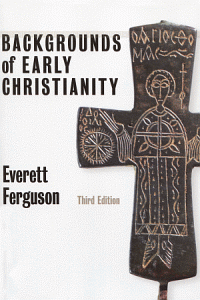 Backgrounds of Early Christianity
Product Details
Having long served as a standard introduction to the world of the early church, Everett Ferguson's Backgrounds of Early Christianity has been expanded and updated in this third edition. The book explores and unpacks the Roman, Greek, and Jewish political, social, religious, and philosophical backgrounds necessary for a good historical understanding of the New Testament and the early church. New to this edition are revisions of Ferguson's original material, updated bibliographies, and fresh discussions of first-century social life, of Gnosticism, and of the Dead Sea Scrolls and other Jewish literature.
About the Author
Everett Ferguson is professor emeritus of church history at Abilene Christian University, Abilene, Texas. Among his other books are The Church of Christ: A Biblical Ecclesiology for Today and Baptism in the Early Church: History, Theology, and Liturgy in the First Five Centuries (both Eerdmans.)
Endorsements
An impressive achievement in both scope and execution...Its strengths are its comprehensiveness and its very valuable bibliographical resources.