Find this product on Logos.com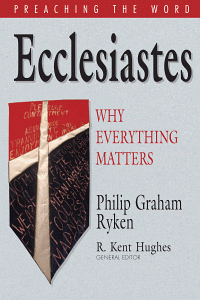 Preaching the Word - Ecclesiastes
Why Everything Matters
Highlights
Noted for its commitment to Biblical authority
Clear exposition of scripture
Practical Application
Product Details
The book of Ecclesiastes is "about life, the way it really is," writes commentator Philip Ryken. Readers throughout the ages have been drawn to the way it honestly wrestles with the tedium of work, injustices in this life, the ravages of age, and the inevitability of death. But its wisdom, according to Ryken, is in teaching people to trust God with life's questions even in the midst of struggles.
Pastors, writers, speakers, and students will find this Preaching the Word commentary to be a helpful resource in their teaching and studies. Ryken explores what will happen if we choose the world's offerings instead of God's and teaches valuable lessons about what it means to have a God-centered worldview.
Ecclesiastes is the twenty-sixth volume of the Preaching the Word series—noted for its clear exposition, readability, practical application, and unqualified commitment to biblical authority. Ryken's commentary will not only enrich any individual study of Ecclesiastes but will equip Christian leaders in communicating its universal application to a wide audience.
About the Author

R. Kent Hughes is Senior Pastor Emeritus of College Church in Wheaton, Illinois. Hughes is the author of numerous books and is also the editor and contributor for Preaching the Word series, including Mark: Jesus, Servant and Savior, which received the E.C.P.A. Gold Medallion Book Award for best commentary in 1990. Hughes served as Senior Pastor of College Church for 27 years and retired at the end of 2006. He came to Wheaton from California where he pastored two churches. He holds a BA from Whittier College, an MDiv from Talbot School of Theology, a DMin from Trinity Evangelical Divinity School and a DD from Biola University. Currently he lives in Washington state with his wife, Barbara, and he is the father of 4 and grandfather of 21 children.
Endorsements
This series will minister to a pastor's soul as well as give him an immense resource for his preaching. And it will minister to the parishioner wonderfully in personal Bible study. The reader will be filled with fresh thoughts about our Lord as well as joyful encouragement for himself. That is what happened to me in reading this.