Find this product on Logos.com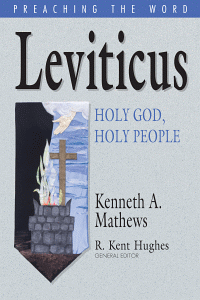 Preaching the Word - Leviticus
Holy God, Holy People
Highlights
Noted for its commitment to Biblical authority
Clear exposition of scripture
Practical Application
Product Details
This new Preaching the Word commentary reveals how the regulations detailed in Leviticus point to the perfection and fulfillment of Christ in the New Testament age.
It is the message that God spoke to his people through Moses as they prepared to depart for the Promised Land. It details regulations for holy living and sacrificial worship in Old Testament Israel. But does Leviticus have anything to say to Christians today?
Knowing that readers of the Bible often get hung up on the seeming irrelevance of Leviticus, Kenneth Mathews counters with this insightful Preaching the Word commentary. His chapter-by-chapter analysis reveals much about not only the demands of a holy God but about the kind of relationship he wants with his people and his standards for worship in any age.
As Mathews illuminates the significance of Israel's sacrificial system and symbols, he draws parallel after parallel to Jesus as their perfect fulfillment. His commentary will train pastors, teachers, and serious readers in how Leviticus foreshadows the saving work of Jesus, and the many ways God made accommodation for human sin through Christ.
About the Author

R. Kent Hughes is Senior Pastor Emeritus of College Church in Wheaton, Illinois. Hughes is the author of numerous books and is also the editor and contributor for Preaching the Word series, including Mark: Jesus, Servant and Savior, which received the E.C.P.A. Gold Medallion Book Award for best commentary in 1990. Hughes served as Senior Pastor of College Church for 27 years and retired at the end of 2006. He came to Wheaton from California where he pastored two churches. He holds a BA from Whittier College, an MDiv from Talbot School of Theology, a DMin from Trinity Evangelical Divinity School and a DD from Biola University. Currently he lives in Washington state with his wife, Barbara, and he is the father of 4 and grandfather of 21 children.
Endorsements
This series will minister to a pastor's soul as well as give him an immense resource for his preaching. And it will minister to the parishioner wonderfully in personal Bible study. The reader will be filled with fresh thoughts about our Lord as well as joyful encouragement for himself. That is what happened to me in reading this.