Find this product on Logos.com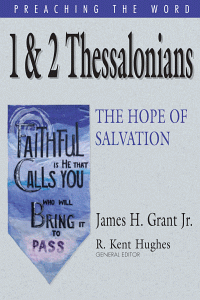 Preaching the Word - I and II Thessalonians
The Hope of Salvation
Highlights
Noted for its commitment to Biblical authority
Clear exposition of scripture
Practical Application
Product Details
Paul wrote to the church in Thessalonica to encourage them to live in the light of the gospel. In his two letters he addresses a number of topics, including the persecution they were enduring, the second coming of Christ, and how they were to live in the present times. While the letters were written nearly two thousand years ago, pastor James H. Grant Jr. insists that Paul's audience includes us as well as the Thessalonians.
Grant applies Paul's message to contemporary churches by moving expositionally through 1 & 2 Thessalonians. Twenty-five sermons examine each passage of the books as the gospel and its implications are unpacked in light of Christ's second coming./p>
1 & 2 Thessalonians is a Preaching the Word commentary. The series is noted for its unqualified commitment to biblical authority, clear exposition of Scripture, readability, and practical application. It is an ideal resource for pastors and teachers, as well as for personal Bible study.
About the Author

R. Kent Hughes is Senior Pastor Emeritus of College Church in Wheaton, Illinois. Hughes is the author of numerous books and is also the editor and contributor for Preaching the Word series, including Mark: Jesus, Servant and Savior, which received the E.C.P.A. Gold Medallion Book Award for best commentary in 1990. Hughes served as Senior Pastor of College Church for 27 years and retired at the end of 2006. He came to Wheaton from California where he pastored two churches. He holds a BA from Whittier College, an MDiv from Talbot School of Theology, a DMin from Trinity Evangelical Divinity School and a DD from Biola University. Currently he lives in Washington state with his wife, Barbara, and he is the father of 4 and grandfather of 21 children.
Endorsements
This series will minister to a pastor's soul as well as give him an immense resource for his preaching. And it will minister to the parishioner wonderfully in personal Bible study. The reader will be filled with fresh thoughts about our Lord as well as joyful encouragement for himself. That is what happened to me in reading this.