Find this product on Logos.com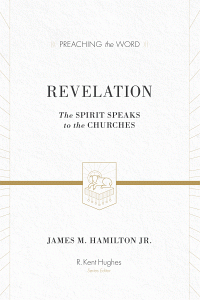 Preaching the Word - Revelation
The Spirit Speaks to the Churches
Highlights
Noted for its commitment to Biblical authority
Clear exposition of scripture
Practical Application
Product Details
In the book of Revelation, God unveils the world as it really is, identifying an unseen spiritual war and announcing a very real day of judgment. As the end approaches, we need to be convinced that Jesus is reigning as the risen King. We need to have him speak to the situation in our churches. We need to see how God will pulverize wickedness, answer those who oppose him, and establish his eternal kingdom. Revelation has exactly what we need.
Useful for personal study, as well as for preaching and teaching, the thirty-seven sermons in this volume have a clear structure and even include helpful charts and tables to highlight key themes and literary elements. In each sermon, professor and pastor James Hamilton grabs the reader's attention, raises awareness of a real need, and states the main point of the biblical text. In addition to explaining the meaning of each passage, Hamilton connects the main ideas to applicable analogies and actionable points.
Revelation is a prophecy of epic proportions and Hamilton invites readers to love God and his people by expositing this revelation of Jesus, and to say along with the apostle John, "Come, Lord Jesus."
About the Author

R. Kent Hughes is Senior Pastor Emeritus of College Church in Wheaton, Illinois. Hughes is the author of numerous books and is also the editor and contributor for Preaching the Word series, including Mark: Jesus, Servant and Savior, which received the E.C.P.A. Gold Medallion Book Award for best commentary in 1990. Hughes served as Senior Pastor of College Church for 27 years and retired at the end of 2006. He came to Wheaton from California where he pastored two churches. He holds a BA from Whittier College, an MDiv from Talbot School of Theology, a DMin from Trinity Evangelical Divinity School and a DD from Biola University. Currently he lives in Washington state with his wife, Barbara, and he is the father of 4 and grandfather of 21 children.
Endorsements
This series will minister to a pastor's soul as well as give him an immense resource for his preaching. And it will minister to the parishioner wonderfully in personal Bible study. The reader will be filled with fresh thoughts about our Lord as well as joyful encouragement for himself. That is what happened to me in reading this.